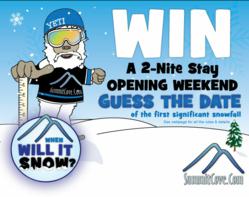 The winner of the contest will be handsomely rewarded with a 2-night stay in a one bedroom condo in the beautiful Keystone, Colorado
Keystone Ski Resort, Colorado (PRWEB) September 30, 2012
Fall has arrived and seen its peak in Keystone, Colorado and quickly after fall appears, winter shows its face. Light dustings of snow have been seen on the peaks throughout Summit County over the past few weeks and everyone is gearing up for ski season. Gearing up with new ski and snowboard equipment, stocking wood piles, and getting the snow boots out of the closet. Keystone Resort's opening day, scheduled for Friday, November 2nd, is just 32 days away. Nathan Olk, Operations Coordinator of SummitCove.com says, "We all know the snow is coming, we're certainly getting ready for it here in Keystone- we are turning up the heat in all of our properties, getting out the snow shovels, that kind of thing. Now it's just a question of when the snow will start falling."
SummitCove Vacation Lodging is hosting its second annual, 'When Will It Snow?' contest, offering contestants a chance to guess the date of the first significant snowfall of 4 inches or more in Keystone. The winner of the contest will be handsomely rewarded with a 2-night stay in a one bedroom condo in the beautiful Keystone, Colorado over the resort's opening weekend, November 2nd through the 4th. Entrants are required to complete a quick signup form in exchange for their entry. In the event of multiple contestants guessing the correct date, a final drawing will be held to pick one ultimate winner. The winner will be notified by e-mail within 48 hours of the first snowfall. See all the rules here.
About SummitCove Vacation Lodging
SummitCove.com Vacation Lodging has been providing premier Vacation Rentals and Property Management services in Keystone, Colorado since 2001. The SummitCove.com public website is http://www.SummitCove.com.