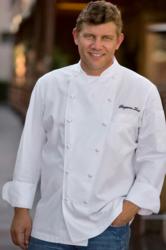 We're excited to introduce Ben Ford to Yuma & to see what he will be inspired to create from our amazing agricultural bounty.
Yuma, AZ (PRWEB) September 30, 2012
Chef Ben Ford, owner of Ford's Filling Station in Culver City, Calif. -- and son of actor Harrison Ford -- will be the headline chef at Yuma Lettuce Days, set for March 9-10 (2013) at the Yuma Quartermaster Depot State Historic Park on the banks of the Colorado River. An annual culinary celebration of Yuma's role as the nation's winter vegetable capital, Lettuce Days earned a Governor's Tourism Award as Arizona's outstanding special event in 2011.
As a chef and restaurateur, Ford is known not only for his creative techniques, but for celebrating the cycle of life and freshness of the earth through his choice and treatment of ingredients.
That makes him a great match for Yuma, which during the winter months supplies more than 90 percent of the nation's leafy vegetables. In fact, Yuma County ranks third in the nation for vegetable production, and its annual agricultural output of more than $3.2 billion accounts for more than a third of the total production for the state of Arizona.
"We're excited to introduce Ben Ford to Yuma and to see what he will be inspired to create from our amazing agricultural bounty," said Linda Jordan, executive director of Yuma Visitors Bureau, which organizes Lettuce Days. "From his appearances on Iron Chef America, The Today Show, Martha Stewart, After Hours with Daniel Boulud, Jaime Oliver's Food Revolution, Bizarre Foods with Andrew Zimmern, Supper Club with Tom Bergeron, and The Food Network Sandwich Challenge, we know he brings a lot of energy to his appearances and will be a real crowd pleaser."
Also attending Lettuce Days this year will be radio personalities Bob & Sheri, whose North Carolina-based show is syndicated nationwide. They will participate in tasting and recipe judging and give fans an opportunity to "meet and greet" the duo. Jordan says plans are already in the works to (celery)stalk the radio hosts with Yuma-grown produce in order to seed advance discussion of the event.
Ford will do live cooking demonstrations - and offer tastes to those in the audience - at 11 a.m. and 2 p.m. both Saturday and Sunday. Other activities planned for Yuma's homegrown celebration include other live cooking demonstrations and contests, red-hot ice carvers, a ginormous salad bar and a tasting event that showcases specialties from local restaurants.
There will also be plenty of farm and food-related vendors, live entertainment, a beer garden, displays of tractors and other farm equipment, a special Kids Ag-tivities area and bus tours of through Yuma's lush fields narrated by local growers.
Put Arizona's freshest destination food event on your calendar now! As sure as Yuma sunshine, there will be full menu of fun for all, with lots of produce, citrus, melons and dates ... straight from the field to the fork! Plans are still germinating, check for other ingredients to be added of our foodie fest at http://www.yumalettucedays.com.
STAR TRACKS BONUS: A long time ago in a galaxy far, far away ... a young Harrison Ford visited Yuma while filming "Return of the Jedi" in the Imperial Sand Dunes. We note the cosmic coincidence of his son, Ben Ford, starring in Yuma's culinary showcase some three decades later.
###
Yuma Visitors Bureau markets the Yuma area within the travel and tourism industry and to the general public. Yuma's population nearly doubles in the winter months, thanks to more than 23,000 spots in RV parks and resorts. The community also offers nearly 4,300 hotel rooms, conference and meeting facilities, and three casinos. For more details about Yuma's year-round attractions, special events - and the rarely "cloudy with a chance of tacos" forecast* - visit http://www.visityuma.com or call 800-293-0071.

Recognized by Guinness World Records as world's sunniest spot, Yuma offered free meals to hotel guests "every day the sun doesn't shine" from Aug. 1, 2011 until July 31, 2012 as part of Arizona's Centennial celebration. Yuma's final score? Sunshine 365, Gloom 0.
Yuma Visitors Bureau contact:
Ann Walker, 928-376-0100 (office), 928-210-9044 (cell), ann(at)visityuma(dot)com
Yuma Lettuce Days contact:
Susan Sternitzke, 928) 276-3408, 928-246-9255, susan(at)limelightcreativegroup(dot)com
Visitor Information Center: 1-800-293-0071, http://www.visityuma.com