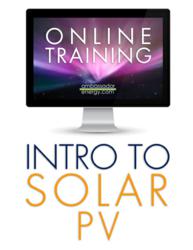 Solar is elusive and sexy technology
Murrieta, CA (PRWEB) September 30, 2012
Intro to Solar PV was written and recorded by Catherine Kelso, Ambassador Energy's Director of Training. Kelso is one of only a handful of solar professionals who is certified by NABCEP as a Solar PV Installer and Solar PV Technical Salesperson. She is a veteran in the solar industry, taught solar training for Ambassador Energy since 2010 and designed much of the curriculum for Ambassador Energy College.
"I am excited to offer this complimentary video, providing basic solar PV knowledge," said Kelso. "You may be thinking of getting into the solar business, brushing up on some solar basics, or just curious about how things work. In any case, please enjoy, and visit our library of other Solar PV Training Videos on our site."
The growing library of on-line courses includes Solar Modules, Solar String Sizing and Solar System Sizing. Each may be downloaded for only $29.95.
"Our goal is to offer a high-quality, information-centric course free-of-charge," said Kelly Smith, President of Ambassador Energy. "Then, as people become more interested in the details of solar, they can build on a solid foundation of accurate, current solar knowledge. It's all about educating people, as there is so much misinformation and spin out there. These courses will mostly be viewed by industry folks, but I am constantly surprised how many regular consumers are curious and want to know more about it. Solar is elusive and sexy technology."
In addition to on-line training, Ambassador Energy offers an entire menu of solar training classes at their facility in Southern California. Courses include:
Entry Level Solar PV Design and Installation
Advanced Solar PV Design and Installation
Advanced PV Technical Sales
Advanced Solar PV Installation
PV System Design
Solar PV for Electricians
Solar PV for Contractors
Ambassador Energy Agency Training
In addition to teaching solar classes, Ambassador Energy is also ISPQ certified and proctors the NABCEP Entry Level exam.
About Ambassador Energy
Ambassador Energy [AE] has a three-pronged business model, including Ambassador Energy College Solar Training, the Ambassador Energy Agency Program and Ambassador Energy, an EPC contractor. On staff are NABCEP Certified PV Installers, NABCEP Certified PV Technical Sales professionals [Fulgham/Kelso] and multiple NABCEP EL graduates. AE Agencies are nationwide. Ambassador Energy EPC installs PV systems throughout California.
See us on Facebook.