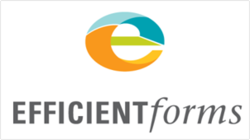 Customers reduced their paper consumption by over 1,500,000 sheets of paper in September 2012
Littleton, CO (PRWEB) September 30, 2012
Efficient Forms may be better known for automating the employee onboarding and tedious hiring paperwork process with its Efficient Hire service, but Efficient Forms also has become a leader in automating other business processes such as insurance premium audits. Efficient Forms has over 300,000 premium audits being processed so far in 2012, which is more then double the number of premium audits automate by Efficient Forms in 2011.
Efficient Forms has helped companies across many industries, from Fortune 500 insurance carriers with premium audits and insurance applications to restaurants retail stores, call centers and staffing companies with new hire onboarding. Automating data gathering and complex forms processes has helped these companies increase productivity and decrease expenses by reducing paper consumption and transportation costs.
Often companies must weigh the choices of going green against potential increases in operation costs. A perception among companies equates "going green" with higher costs and lower profits. This is not the case for customers of Efficient Forms. For example, the Efficient Premium Audits Services are saving insurance carriers time and money while also reducing their consumption of natural resources and the production of carbon emissions associated with transporting premium audit forms back and forth between customers and insurance carriers. Companies produce a significant ROI, reduce errors, and go paperless all by using Efficient Premium Audit Services to automate the premium audit process. Efficient Forms estimates that approximately 750,000 pieces of paper were saved using Efficient Premium Audit Services in September.
"We applaud our larger customers who have "going green initiatives" aimed at reducing their overall corporate carbon emissions and natural resources foot print. Whether our customers have a "going green initiative" or not, the result of automating paper processes are the same--many trees are being saved each month by using our Efficient Forms technology. We are glad to be contributing to that." Steve Heller, VP of Product Development at Efficient Forms, LLC.
About Efficient Forms and Efficient Hire:
Founded in 2004, Efficient Forms, LLC is a privately-held Colorado company that specializes in automated electronic solutions for dynamic and cost-effective forms completion, data collection and process workflow. Their Transaction Origination Platform powers the company's various industry leading SaaS services by allowing its customers to capture data for multiple forms by using an online one-time-entry "interactive question and answer" process. Its market leading solutions, Efficient Hire and Efficient WOTC, automate the new hire onboarding process for all types of employers.