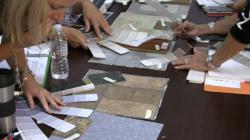 Best Hands-On Home Staging Design Course in the Nation
(PRWEB) September 30, 2012
Kim Kapellusch, Owner and Founder of The Academy of Home Staging is proud to announce, the industries' leading home staging certification training program is offering a very special incentive to students who enroll now in one of our three remaining classes in 2012! This is a limited offer – the first four students, per location, who call and register to join one of these three classes.
Students have a great choice of locations spread across the country to provide a learning location nearer to them.
Dates and locations that are eligible for this 'special Fall savings' are:
October 29th – November 2nd – Washington, DC 
Instructor: Nicci Parish, Founder and Owner of Impress Me! Home Staging, LLC
Nicci Parrish, founder and owner of Impress Me! Home Staging, LLC, a premier home staging and redesign company in the Washington DC metro area. She is an adjunct instructor at Prince George's County Community College where she has taught hundreds of aspiring home stagers in the Washington DC metro area on the fundamentals of starting a home staging business. 
Nicci is a member of Real Estate Staging Association (RESA) and has been featured in numerous print and on-line publications including the Washington Times Home Guide, Baltimore Home Improvement magazine, and the Washington Post.
November 4th – 8th – Dallas, TX
Instructor: Michelle Lynne, President by Michelle Lynne
In 2007 Michelle opened "by Michelle Lynne", Dallas' premier resource for home staging, organizing & design. Since then, Michelle Lynne has become a member of the Texas Association of Interior Design, the Real Estate Staging Association, and the National Association of Professional Organizers. She has achieved her RESA-Pro designation, held the position of Vice President of her local RESA chapter, is one of the founders of Showings To Closings, a monthly seminar given to Dallas area real estate agents, and is also a RESA Approved Instructor, providing course instruction for MCE credits to Texas real estate agents.
November 12th-16th – Seattle, WA 
Instructor: Pam Christensen, Founder and Owner, Staging for Charisma
Pam Christensen is the founder and owner of Staging for Charisma, LLC a based in Seattle, WA.  Staging for Charisma was formed in 2007 and under Pam's vision and leadership has grown into a highly successful home staging business. Pam has staged millions of dollars in real estate and is passionate about helping her clients be successful.  She creates fabulous first and lasting impressions that sell, whether she stages using the clients own furnishings or fully furnishes a vacant home.  Pam teaches workshops and seminars helping women find and pursue their passion by applying staging principles to their lives and businesses.
There has never been a better time to become a Certified Home Stager. The Real Estate Market is showing concrete signs of beginning a turn-around. Home sellers and Realtors are embracing the benefits of Home Staging. According to a study by the National Association of Realtors in 2012, 25% of homes on the market are professionally staged, up from just 5% in 2007. According to a 2012 survey by Home Gain, Home Staging is in the Top 5 items a home seller should invest in in order to sell their home quickly and for the most amount of money. In the same survey Home Gain states Home Staging delivers a 196% Return on Investment to the home seller.
Students will experience the complete five day program from The Academy – which includes:

Space Planning – theory and practical application
Color Theory
Coaching and Feedback. Our classes are kept small so that our expert Stager Trainers can provide personalized feedback and coaching to every student throughout the entire course.
On-location Exercises. Only The Academy of Home Staging brings you out into the field to 3 homes. Students learn through practical application while staging a home for sales. Planning out a complete Vacant-staging plan and proposal, and a comprehensive Staging Consult.

Accessorizing. Students will learn theory behind accessorizing, and then participate in hands-on exercises in accessorizing, in the classroom and then in a Staging Redesign out in the field.
Paint Color Selection. Students receive their own Paint Fan Deck and learn how to determine which paint for which application in their clients homes. They learn the importance of understanding light-reflective-value of paint colors, appropriate primers and more.
How to Set up Your Staging Business. Students learn our secrets to '30 Days to Starting your Business'. This is a comprehensive plan students can follow to begin their new career as a Home Staging Expert. Guest speakers participate talking about social media and how to utilize it as their key marketing tool. Each student upon successful completion of their Certification Exam will receive a CD full of sample contracts, marketing materials, proposal sheets and much more.
This special 'Fall Savings' is limited to the first four registrants for each location.
To register, call today: 1.800.574.5576
ABOUT THE ACADEMY OF HOME STAGING:
The Academy of Home Staging was founded by Kim Kapellusch in 2005 in the Los Angeles area, and has quickly become the Industries' premier Home Staging and Redesign Certification Training Program. Today The Academy operates in California; Seattle, WA; New York City; Washington, DC and Tampa Bay Area, FL. In addition to its leading classroom certification classes The Academy offers a full CD based course, ongoing education and one-on-one business counseling.
For more information call 1800.574.5576 or visit http://www.TheAcademyOfHomeStaging.com.