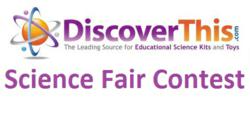 We are launching the contest to show teachers we appreciate their service
Lake Forest, IL (PRWEB) September 30, 2012
Discover This (http://www.discoverthis.com) has announced that it will be giving away a premium Thames & Kosmos science kit to one of its teacher Facebook fans. The contest is a way to reward one of the company's loyal followers while also building upon the robust community of educators with whom Discover This already partners.
Those who wish to participate in the contest need to go to the Discover This Facebook page and answer the question related to school science fair ideas. Teachers have two options of what they may share. It can either be a description of the best project a teacher has seen from a student, or the best lesson a teacher has used in preparation for the school science fair.
Click here to enter the Science Kit Giveaway Contest
Discover This views the contest as perfectly aligned with its mission of helping educators and parents make education fun and effective. More fans on Facebook will increase the company's visibility, allowing Discover This to partner with more schools and youth organizations to offer them affordable educational resources. The increased number of teachers "liking" the Facebook page will also broaden the community of educators that can interact directly with one another.
Erin Brophey Miller, owner of Discover This and mother of six, explains the timing of the promotion. "Now that teachers and students have settled into their routine, it's the perfect time to share ideas across schools. We are launching the contest to show teachers we appreciate their service, but in these times of high accountability, we also want teachers to be able to easily reach out to one another in a broader teacher community."
The winner of the contest will receive a Thames & Kosmos Fuel Cell X7 Hydrogen Powered Car, which is valued at $120 MSRP, and a science fair idea experiment book for his or her classroom. This promotion is limited to teachers living in the continental United States. Enter by October 12th on the Discover This Facebook page to be eligible.
Discover This is a family owned and operated business headquartered in Lake Forest, Illinois, home of owners Alex and Erin Miller and their six children. They only sell products that they would be comfortable giving their own children. All of their products are fun and non-violent, while they also keep children mentally active by engaging them in learning about the many exciting branches of science. Discover This is a division of Renaissance Retail, the Internet's leading source for specialty consumer products.
Contact:
Timothy Benson
Renaissance Retail
847-932-4720 ext. 2704
Email: tim(at)discoverthis(dot)com