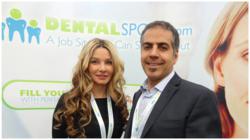 Our goal is to make it cost-effective and simple
again so dentists will have everything they need available to them in one convenient
online location
Dallas, Texas (PRWEB) September 30, 2012
Feridoon Amini, founder of DentalSpots.com, announces that the full-service dental jobs website which matches dental practices with job seekers will have a Community release in place and operational by the end of this year. Since its introduction, the jobs portal has expanded rapidly and is continually adding new components to make the dental jobs search process even easier. The Community release is seen as the next step in a logical progression to making DentalSpots.com the first professional online networking site for dental professionals.
The site's co-founder, Dr. Mojan Safavi, is a practicing dentist in the Dallas area. These aggressive upgrades are based on her input about running an efficient dental practice and extensive research on the needs of the dental profession. "We talked to a lot of dentists about how today's dental practices operate," said Amini. "What we found is that they feel it is getting more difficult than ever for them to handle all of the administrative aspects of running a profitable business and still provide a high level of quality patient care. The internet was supposed to make this easier for everyone but has instead made it more complex by overwhelming the dentists with costly sites, passwords, complicated membership requirements and different formats. Our goal is to make it cost-effective and simple again so dentists will have everything they need available to them in one convenient online location."
Currently dental professionals who visit the website can register and post full-time or temporary dental jobs. They also have access to online and video resumes for applicants who are seeking to find a dental hygienist job, dental assistant job, or dental front office job. Access is available from the web or any mobile device including Android or iPhone. When the Community release is completed, they will also have access to networking opportunities as well as products and services from dental industry providers.
DentalSpots.com also has a sister site, ChooseYourDentist.com, where patients and dentists can connect. Patients who are seeking further information on a particular practice can request a phone call or appointment directly through the site. As further evidence of its commitment to providing an all-in-one online resource, these requests can also be routed back through the dental professional's dashboard at DentalSpots.com.
DentalSpots.com was founded by Amini and his dentist wife, Dr. Mojan Safavi, to streamline the process of finding a full-time or temporary position in a dental office. Further information on DentalSpots.com or the Community release may be obtained by visiting the website at http://www.dentalspots.com, connecting on Facebook, following @DentalSpots on Twitter, or calling 1-800-971-8008.