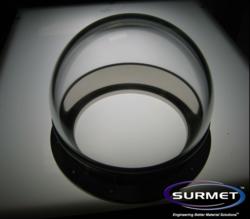 Surmet has developed an economical preview methodology to sort good dome blanks from not so good ones without having to go through expensive precision fabrication.
Burlington, MA (PRWEB) September 30, 2012
The first of the two Phase II awards is from the U.S. Army entitled "Quantitative analysis of ALON® and Spinel dome blanks", and will address the issues of the high cost of fabricating advanced multi-mode seeker domes. It is important to know that a starting dome blank is of sufficient quality to yield a compliant dome, prior to beginning the expensive precision fabrication. Issues such as in-homogeneity arising from stress birefringence and other causes can undermine the performance. Surmet has developed an economical preview methodology to sort good dome blanks from not so good ones. In Phase I, Surmet has successfully demonstrated a cost effective and innovative process using 4-inch diameter subscale domes but now in Phase II, the process will be further optimized, automated, and scaled to allow inspection of up to 7-inch diameter nearly hemispherical domes.
The second Phase II award is from the U. S. Navy entitled "Infrared Transparent, Electrically Conductive Coatings". During Phase I, Surmet successfully fabricated a durable over coating to enhance an IR transparent, conductive coating. Measurements indicate that Surmet's durable coating did not have a detrimental effect on the optics and conductivity. The durable coatings were completely resistant to hot water and thermal cycle while maintaining some resistance to sand abrasion. The new Phase II award will allow for further development of the coating technology to improve optical properties and durability and make it valuable for wider range of MWIR applications. Additionally, thicker durable layers will be evaluated to increase the abrasion resistance of the IR transparent conductive coating.
Surmet produces a wide variety of polycrystalline optical ceramics (such as ALON® and magnesia Spinel) components ranging in complexity from Transparent Armor, through prisms, lenses; sensor, laser and reconnaissance windows, as well as hemispherical and hyper-hemispherical domes. Our Optical Ceramic components have been inserted in a number of defense systems, and are being evaluated towards future defense systems. Surmet's expertise includes the ability to produce blanks as well as the ability to fabricate these blanks into finished optical components.
Founded in 1982, Surmet Corporation is an Advanced Materials Technology and Solutions Company, with a vertically integrated manufacturing capability. In addition to multiple facilities in Massachusetts, including its Headquarters, Surmet has R&D and manufacturing facilities in Buffalo, NY and a Precision Optics fabrication plant in Murrieta, CA.
Surmet thanks the US DoD for their funding support.
To find out what Surmet can do for you, please visit our website: http://www.surmet.com