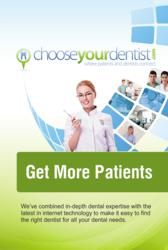 ChooseYourDentist.com provides patients with all the information they need to find a dental healthcare partner and makes it easier for dentists to get pertinent information about their practice to prospective patients at the exact time it's needed
Dallas, Texas (PRWEB) September 30, 2012
ChooseYourDentist.com, the dental search website, is rapidly branching out from its Dallas beginnings to become a nationwide platform for easily matching dentists and patients. Instead of combing through generic information brought up by a "Dentist Dallas TX" search, ChooseYourDentist.com provides easily accessible microsites and video profiles on dental practices. Combined with explanations of dental terminology, the site seeks to give patients the information they need to feel confident in their choice of a dental healthcare partner.
ChooseYourDentist.com, a dental search website introduced at the Texas Dental Association conference by DentalSpots.com, makes it easier than ever for patients to find a Dallas dentist. Instead of searching under a generic title of "Dentist Dallas TX," patients can now visit ChooseYourDentist.com and quickly find background information on available dentists in the Dallas area. Patients can review information on the various dentists, evaluate them, and then request a call or set appointments right from the site. Searches for a Dallas TX dentist can be narrowed by zip code, specialty, insurances accepted and other criteria.
"My wife is a practicing dentist in the Dallas area," said site co-founder, Feridoon Amini. "We've experienced firsthand the difficulties there can be in matching patients with prospective dentists. Patients don't know where to begin looking and dentists don't know when or where patients have a need. We wanted to make this process easier for everyone involved. ChooseYourDentist.com provides patients with all the information they need to find a dental healthcare partner and makes it easier for dentists to get pertinent information about their practice to prospective patients at the exact time it's needed."
Before ChooseYourDentist.com was founded, patients might have to look through the telephone book or try contacting Dallas dentists on a trial and error basis. Now they simply register and are able to begin reviewing information immediately. Amini also added that the mobile application will be released in about six weeks, giving patients access to top Dallas dentists on any platform.
ChooseYourDentist.com conducted extensive research with patients and dental practitioners before developing the site. "We found that many people believe that the most important thing for their appearance and self-confidence is having healthy teeth and gums. Choosing the right dentist can be crucial to a family's health. That's why we're providing the unbiased information patients need to find a top dentist right here in their hometown."
The website also includes in-depth information on the dental industry and dental health to help in the selection process. This feature was included to further patients' understanding of what each dental practice offers and to facilitate the communications process. Future plans also call for a live chat feature so patients can connect immediately with prospective dental care providers.
Further information on ChooseYourDentist.com may be found at http://www.ChooseYourDentist.com, by email at info(at)ChooseYourDentist(dot)com, or by calling 1-888-ICHOOSE. Amini and his wife are also co-founders of DentalSpots.com, a website designed to help dental practices fill part-time, full-time and temporary dental jobs.