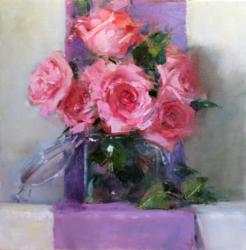 Pink Teas is all about design, color and brushwork - and was tremendous fun to execute!
Phoenix, AZ (PRWEB) September 30, 2012
Artist Chris Saper's entry, "Pink Teas" is one of fifty finalists in the prestigious UK competition held annually by Artist & Illustrators Magazine. The 2012 competition has had a record high number of entries - over 4,000, among four categories including still life, portrait, landscape and other subjects.
Although long respected for her expertise as a commission portrait painter, Saper's still life and floral work is rapidly gaining recognition for its lush, riotous use of color.
Artist & Illustrators magazine conducts on line voting through its Facebook page where all "Fabulous 50" paintings can be viewed.
Over the past 22 years, she has delivered nearly 400 commissioned portraits to clients nationwide. Saper has authored several books, most recently "Classic Portrait Painting in Oils: Keys to Mastering Diverse Skin Tones", filmed 4 DVDs, and is an active speaker, instructor and demonstrator.