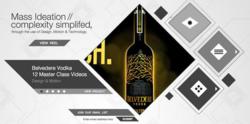 New York, NY (PRWEB) September 30, 2012
Miguel Sanchez, Founder of Mass Ideation (Mi), recently featured in publications such as the New York Times, the Daily News and DNAinfo.com is announcing today the launch of his new website showcasing his team of designers, animators and web developers who create multimedia experiences for their clients through Design, Motion and Technology.
With a foundation firmly planted in idea generation (ideation), the Design team at Mi is devoted to creating engaging interactive media experiences for their clients. Examples Mi's vast variety of this work can be seen in the website created for Belvedere Vodka's Masterclass, Rich Media for Justin Bieber's movie Never Say Never and computer screen savers for the TV show X Factor. Visit the new website to see examples of how Mi collaborates with their clients from the project inception to the full implementation of the concept.
Brands that needed to tell a story have used the Mi team to put that that story to into Motion using marketing videos. Through their client Last Exit, the Mi team has created multimedia sales videos and rich media animations for brands like Mont Blanc, Chegg and Seawell Networks.
The Technology team at Mi has implemented rich media projects for their client Boom Digital representing Ralph Lauren. When online publisher ad platform Pubmatic, was looking to update the look and feel of their website, they came to the technologists at Mi. The Mi team designed and developed an entirely new site experience to help take Pubmatic to the next level.
The creative team at Mi, led by its innovative founder, Miguel Sanchez, is stretching the boundaries of what is possible in interactive media. They are taking branding and storytelling to a new level through video, rich media and augmented reality. Their clients rave not only about the high quality and innovative solutions produced by Mi, but also about the how easy it is to work with them through the entire process from idea inception to launch.
# # #
Mass Ideation is the act of bringing minds together in a mutual mission of creating the convergence of design, motion and technology. We help our clients simplify the complexities of their challenges. Agencies and brands trust us to strategize and create visual, animated and interactive content for various forms of communications, marketing and advertising.
To speak with Miguel Sanchez about your project, visit the website or send him an email to: Miguel(at)massideation(dot)com.