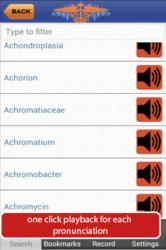 Over 10,000 professionally recorded audio pronunciations
New York, NY (PRWEB) September 30, 2012
SayMedicine announced the release of a brand new application for Android devices. The app, called Medical Pronunciations, has all of the features of the iOS version plus more. With over 10,000 professional recorded audio pronunciations, the application is a valuable resource for anyone looking to improve their medical vocabulary. The app also contains great features that also allow users to research terms instantly using Wikipedia, Medscape, and Google.
For the past two years, SayMedicine's pronunciation dictionaries have been used by hundreds of medical students, physicians, and other professionals looking to master complex medical jargon. They feel confident that the new Android app will be welcomed by both students and professionals.
Until now, the company only provided Pharmacology Pronunciations app for Android users. This application will be discontinued and its content has been incorporated into the newly release application. In addition to drug pronunciations the new app contains terminology from a variety of subjects, including pathology, anatomy, and microbiology. All audio recorded by medical professionals who are native English speakers from the United States.
"This is a big step release. In addition to adding more words, we have also added some great features that our users will enjoy," said Santhosh Cherian, the founder of SayMedicine.
Features in the Android app include:

Hosted data - the new app is less than 1mb in size. SayMedicine is hosting all the audio files on Amazon AWS servers. This means less space required to install and more frequent updates
User profiles - allows users to retain their settings when using multiple devices
Sharing - users can now audio pronunciations with their friends through Facebook, SMS, and email
Built-in reporting feature - allows users to communicate directly with the developers
Free updates for life - like all SayMedicine applications, there is no subscription fee for the new app
The new application is now available through the Google Play store for $4.99. More information and screenshots are available on SayMedicine's website.