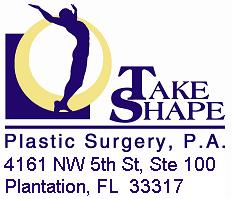 With the new addition of plastic and reconstructive surgeons, Christopher Low MD and George Dreszer MD, the surgeons at Take Shape Plastic Surgery will provide the most advanced techniques in breast restoration in Broward County. - Dr. Russell F. Sassani
Fort Lauderdale, Florida (PRWEB) September 30, 2012
Take Shape Plastic Surgery in Fort Lauderdale will host an event for Breast Reconstruction Awareness (BRA) Day on October 21, 2012. BRA day was designated by the American Society of Plastic Surgery to promote patients' knowledge of treatment options as covered by insurance.
Many realize that October is National Breast Cancer Awareness Month. But there's one part of the breast cancer experience many women know little about: breast reconstruction after a mastectomy.
Women are not well informed about reconstruction as they are overwhelmed when first diagnosed and are preoccupied with survival. Later however they often regret not knowing more about their options.
Unfortunately doctors often fail to inform their patients of alternatives available to them. Some don't think their patients should have the two surgeries at the same time. Some believe wrongly that recurrences of breast cancer can't be diagnosed if reconstruction is done. Some may be practicing in parts of the country where there are no plastic surgeons doing the complicated microsurgery. Some may be uninformed themselves.
During the last decade the innovations and improvements in treatment options have been profound.
As a result Take Shape Plastic Surgery, PA expanded their scope of reconstructive treatment, adding plastic and reconstructive surgeons, Christopher Low MD and George Dreszer MD. Together with Dr. Russell F. Sassani they provide the most advanced techniques in breast reconstruction in Broward County. Using autologous tissue reconstruction they can use the patient's own tissue to achieve results that are more natural appearing without the difficulties that are sometimes associated with breast implants in South Florida.
Post-mastectomy breast reconstruction helps restore the natural appearance and feel of the breast. Performed by plastic reconstructive surgeons, these procedures can be performed immediately after the mastectomy or at a later date, referred to as delayed reconstruction. Each of the different reconstructive options have their own risk and benefit, and the patient and surgeon will decide which option works best. The current methods of breast restoration involve reconstruction utilizing the body's own natural living tissue or using silicone or saline implants in Florida.
Despite the psychological and aesthetic benefit from breast reconstruction, fewer than 25% of women with insurance plans have post-mastectomy reconstruction in Florida. This number is even lower in those patients who are on Medicare or Medicaid, who are older and who are treated in rural non-academic settings. What many women don't know is that federal law requires insurance companies to cover all stages of reconstruction of the breast after mastectomy. Federal and state laws mandate as well that women have the option of surgery on the opposite breast to produce a symmetrical appearance. Many states are also passing legislation mandating physicians inform women of all their breast cancer treatment alternatives, including reconstruction.
Generally it is very valuable for cancer patients to connect with others who have had reconstruction to hear about their experiences and see real results instead of just looking at pictures.
The hope is that BRA Day USA will be a start for all women to get more and better information so that they can pursue better body image and quality of life.
Those interested in attending the event should contact Take Shape Plastic Surgery, P.A. at 954-585-3800 x30 to RSVP. A suggested donation of $50 will be used to promote reconstruction education to all women. The event will be held at the home of Dr. Russell Sassani.