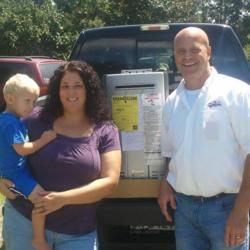 The sweepstakes was just one of the many ways ER Plumbing Services has given back to the community
Charlotte, NC (PRWEB) September 30, 2012
Charlotte plumbing company, ER Plumbing Services, has given away a brand new water heater (brand: Rinnai 9.4, cash value $1,500) to Crystal Johnson of Charlotte NC, mother of five children and winner of ER Plumbing's Free Tankless Water Heater Sweepstakes. With seven people in Crystal's household, they certainly did need more hot water! The new tankless water heater was installed on August 31, 2012.
ER Plumbing Services is dedicated to the Charlotte NC community, and the sweepstakes was just one of the many ways ER Plumbing Services has given back to the community.
This Charlotte plumber also provides free plumbing advice through a blog, a question-and-answer column and informative pages on the company website.
About ER Plumbing Services
ER Plumbing Services is owned and operated by David Parker of Charlotte, NC. ER Plumbing offers year-round 24/7 emergency and nonemergency plumbing services to the Charlotte area. Services include drain cleaning, water heater repair and installation, leak detection and repair, and a range of other commercial and residential plumbing services. More details on the tips and answers to frequently asked plumbing related questions can be found at the website: http://www.erplumbing.com/blog