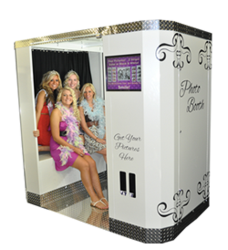 These jumbo king photo booths are perfect for wedding receptions, NYC corporate events and reunions
New York City, NY (PRWEB) September 30, 2012
New York City Photo Booth Rental company Ovation Photo Booth Rentals now has in stock jumbo king photo booths, all of which comfortably will accommodate up to six people in one photo shoot. These jumbo king photo booths are perfect for wedding receptions, NYC corporate events and reunions. They are especially useful for large events, where you need to get a lot of people into photos at once.
This New York City Photo Booth Rental company also provides new and exciting party planning ideas and details on their portfolio of photo booths available for rental on their event planning advice blog.
Ovation Photo Booth Rentals offers the best photo booths available, complete with attendants to make your next wedding, corporate event or class reunion a high class event.
To rent a jumbo king photo booth for your next event, contact Ovation Photo Booth Rentals directly.
About Ovation Photo Booth Rentals
Ovation Photo Booth Rentals provides photo booths for Long Island, NYC, Westchester, Queens and the surrounding areas.