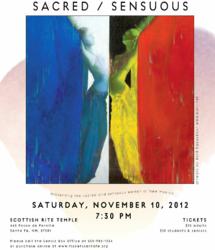 Santa Fe, New Mexico (PRWEB) September 30, 2012
50 exceptionally sacred dancers and musicians will be sharing their light and love with you at the Sacred and Sensuous Concert from 7:30 - 9:30 p.m., Saturday, November 10, 2012. They are passionate about performing to raise money for the orphaned children in Myanmar, Nepal and Tibetan Refugee towns. 100% profit directly goes to the children. This event is featured on SantaFe.com's event calendar.
There are 14 uniquely different vignettes but they all share the Sacredness of heart, Sacredness of movement that rise through the heart and Sacred from above and all around.
Visitors to Santa Fe and locals are encouraged come to Scottish Rite Masonic Theatre (historical museum) on November 10, 2012 to witness and explore the art of Sacred Sensuous You.
Vignettes performance program schedule:
Vignette 1 - Clearing the Heart - Tess Yong(Korean shamanic fusion dancer), Laurianne Fiorentino(flute & chanting) and Gregory Gutin(drum)
Vignette 2 - The Call to Dance - The Saltanah Dancers (Belly Dancer)- Deborah Newberg, Areena Estul, Michelle Odom, Sara Masica
Vignette 3 - Sacred Hoop Flow - Kailani Gorman (hoop dancer), Jen Livingston (hoop dancer), Roark Barron(harp), Jaum Barron(drum), and Devan Barron(Piano)
Vignette 4 - The Veil and The Apple - Betsy Robinson(story telling dancer)
Vignette 5 - Modern Tribal Belly Dancing - Heather Mcdonald(tribal belly dancer)
Vignette 6 - Echo - Annie Kohn(contemporary dancer), Mariel Lowe(contemporary dancer)
Vignette 7 - Erotic Innocence - Laura Stokes(Contortion)
Vignette 8 - Sacral Sounding - Consuelo Luz (chant) and Lara Bache(yoga dance)
~Intermission~
Vignette 9 - Ascension - Lyra Barron(piano), Haley Ackerman(harp), Lisa Stuart(cello) and Jenny Cale(interpretative dance)
Vignette 10 - Light and Dark - Lauren Burr(tribal break belly dancer) and Kimberly Hawley(belly dancer)
Vignette 11 - Sacred Inspiration - Julie Brette Adams (contemporary interpretative dancer)
Vignette 12 - Love Nest - Grace Weisman(Belly dancer) and Sage Mayhew(guitar)
Vignette 13 - Yemaya-Holy are the water - Sita(harmonim) and Gregory Gutin(drum) and Sacred Sensuous Dancers walk through the sage one by one with the energy of sacredness…
Vignette 14 - Dancing Death and Life - Robin Duda(african dancer), her African dancers and drummers
Performers:
Consuelo Luz -
Consuelo Luz, Chilean-Cuban singer/songwriter, explores her Sephardic roots adapting ancient Jewish prayers and ballads from Spain, the Mediterranean and the Middle East into new "World Music" style songs in a passionate marriage of Jewish and Latin soul. http://www.consueloluz.com/
Saltanah Dancers -
The Saltanah Dancers, director Deborah Newberg, Michelle Odom, Areena Estul & Sara Masica~ Elegant, Joyful Enchanting Belly Dance Celebrating the Feminine. Saltanah Studios offers small, personal, joyful Belly Dance classes and workshops for all, from just-for-fun-and-exercise beginners, to those seeking personal growth, to those training as performers! We welcome you to discover your inner goddess! We are also available for your special celebrations. http://www.saltanahstudios.com/
Tess Yong -
Ms. Yong has studied, taught, and performed sacred dance during most of her life. She has an extensive background in training the body and uplifting the heart. http://www.tessyong.com/
Laurianne Fiorentino -
Whether incanting invented vocals or delivering earthie-indie songs that cajole with startling poetry and sensuality, Laurianne Fiorentino's musical creations border on ritual and ceremony. The indigenous pulse of her pagan Lithuanian roots come through with a sophisticated shimmer rendered universal by ancestral Florentine influences, modern yet timeless, offering audiences a sonic picnic. Powerful. Feminine. Authentic. http://www.lauriannefiorentino.com/
Ticket Info
Purchase Tickets Online or by phone at (505) 982-4414
General Admission: $25
Students & Seniors: $18
About SantaFe.com:
SantaFe.com provides locals and visitors to Santa Fe alike the most current interactive platform for events, music, arts, business, dining and lifestyle. SantaFe.com is a division of Hutton Broadcasting, located at 2502 C. Camino Entrada, Santa Fe, NM 87507
Contact Information:
Scott Hutton
SantaFe.com / Hutton Broadcasting
http://www.santafe.com
(505) 471-1067 (Media inquiries only, please)