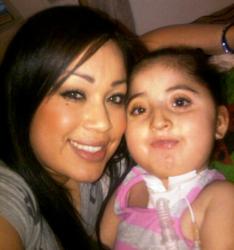 I believe that Angeles would not be ... doing as well as she is today if we hadn't received the information that we did from the Family-to-Family Health Information Center in New Mexico.
(PRWEB) September 30, 2012
All of the news in the United States lately seems to be about what will happen during the fewer than 35 days which remain of the U.S. presidential race. Most of those days will get checked off the calendar during the month of October. Perhaps appropriately, since both presidential candidates seem quite dedicated to the importance of family in their personal lives – with Mitt Romney the father of five boys and Barack Obama the father of two girls - October is National Work and Family Month.
This designation was created to communicate and celebrate the progress towards supporting healthier and more flexible work environments and to encourage employers to implement work-life effectiveness programs. It was identified by a resolution of the U.S. Senate in 2003 and in 2010 President Obama issued a presidential statement about National Work and Family Month which included these observations:
"Millions of Americans continue to struggle day-in and day-out to balance work and family life – to juggle their job responsibilities with caring for a child, an elderly relative, or a loved one with a disability."
http://www.whitehouse.gov/the-press-office/2010/10/25/statement-president-national-work-and-family-month
For Family Voices, the president's comments were particularly noteworthy because of their attention to the challenges of providing care for a loved one with a disability.
As the fever pitch of the current election race intensifies over the next few weeks, it will be interesting to see whether the questions flagged in the 2010 presidential statement can somehow elbow their way onto the presidential debating platform. Is the balance between work and family, something which is central to the lives of many if not most Americans, an important enough topic to be worthy of discussion by the presidential candidates in the face of other pressing issues?
Two parent heroes, who take care of children with special health care needs in the home, while helping other parents with similar challenges, are Andrea Leon and Deepa Srinivasavaradan. Each mother works with the Family-to-Family Health Information Center (F2F HIC) in her respective state, Andrea in New Mexico and Deepa in New Jersey.
Each of the 50 states in the U.S. and the District of Columbia currently has a family-leader-run F2F HIC which is partially funded by the federal government to provide resources, education, training, and peer mentoring to all families of CYSHCN and/or disabilities. As part of their work, the F2F HICs assist families from diverse cultures or disparity populations in a manner that is culturally sensitive and appropriate. Sometimes health care providers are simply unaware of cultural differences that could become barriers for parents in accessing services for their CYSHCN and/or disabilities, so this type of assistance is critically important. Renewed funding for the F2F HICs is now under consideration by Congress, but will await resolution until after the presidential election. So, it is not clear whether federal funds will be appropriated for continued support of the centers after May of 2013.
Both mothers initially connected with their local F2F HIC to get help for their children. Andrea tells her story this way:
"My daughter's name is Angeles Leon and she was diagnosed with spinal muscular atrophy (SMA), Type I. And what that means is that her muscle cells are atrophying.
Children like Angeles are typically expected to live a year and a half. Angeles is now nine and she's doing great.
Angeles has a trach (tracheostomy tube), she's on a ventilator 24 hours a day, she's G-tube (Gastrostomy tube) fed, and she has scoliosis. So, she has a lot of medical complications. But cognitively children with SMA are typically unaffected.
I first learned about the Family-to-Family Health Information Center (F2F HIC) in New Mexico through a parent-to-parent connection. I met a mother who worked at Parents Reaching Out (the NM F2F HIC) whose daughter had the same diagnosis that my daughter had….That's how I first learned about the resources the F2F HIC had to offer for families.
I believe that Angeles would not be where she is and doing as well as she is today if we hadn't received the information that we did from the F2F HIC around resources that were available.
Children like Angeles require a lot of therapies. So, having information on where to take her and what kind of services were available in our community has made a complete difference. I remember when Angeles was having issues bringing up her secretions it was one of the parents that I met through the Family-to-Family Health Information Center who shared with me resources around the cough-assist machine. Then I went to that parent's doctor to tell the doctor 'I met this parent and you see her and you gave her this machine (for her child) and I want it too.' And the doctor said 'I think it's totally appropriate for your daughter. Let's look at getting it.' And so, we were able to get the machine to help Angeles cough.
All of these things are what keep my daughter alive."
Andrea tells her story in this 2-minute YouTube video: http://tinyurl.com/andrealeonstory. She is now coordinator of the F2F HIC located at Parents Reaching Out.
"I was hired at Parents Reaching Out in 2003. A lot of the work we focus on is ensuring that parents are matched to other parents for support. Parents calling us are in crisis mode. We find that matching a parent with another parent really relieves the stress and isolation they can feel when they are navigating the system."
Deepa's story reflects the particular challenges of a parent navigating the health care system as an immigrant unfamiliar with local communication as well as the education and health care system:
"My husband and I came to the United States from India in 1999 when our son Adithya was eight months old and settled in New Jersey. As a first-time Mom and a recent immigrant, I had cultural barriers that prevented me from communicating as effectively as I would have liked. Everything seemed intimidating.
At first our son appeared to be meeting his developmental milestones. Then after a while it seemed that his speech development was slow. After we enrolled him in pre-school an early intervention specialist diagnosed him with Pervasive Developmental Disorder. Eventually we found a developmental pediatrician and neurologist to work with him and in November of 2003 at the age of five Adithya was diagnosed with autism.
We didn't know what this meant, what we should do, or what our rights were as parents. By that time he was beginning elementary school and he had an Individualized Education Program. Between 1st and 4th grades he worked with a speech therapist and case manager at his school who were very helpful and his speech and other skills progressed. I volunteered at the school and built good relationships with Adithya's support team and all seemed to be going well.
But in fifth grade we hit a snag. Adithya's speech was regressing. The case manager had retired. I was having trouble getting communication from the speech therapist and eventually it became clear that Adithya was missing speech therapy sessions. I tried getting help from the school for changing his services but wasn't successful.
That's when I found out about the Family-to-Family Health Information Center (F2F HIC) in New Jersey, called SPAN NJ, and contacted them for support. The F2F HIC provided me with information to help me advocate effectively for my son within the school. The school, as an exception to their regular policy, allowed us to change speech therapists mid-year. My son started receiving speech therapy homework, and I started getting regular communication from the new speech therapist. We were able to coordinate efforts and Adithya's speaking skills began improving once again.
Without the F2F HIC's help, I wouldn't have known how to get the help I needed for my son."
Deepa began attending an in-depth series of trainings for parents at SPAN in the fall of 2009 and by the end of the 5th week SPAN asked her to work with the organization. She says:
"I had always been a homemaker so the idea of going to work anywhere was unexpected. But the people at SPAN seemed so wonderful, and the opportunity was exciting, so I took a position as a New Jersey Family Care Enrollment Specialist in January of 2010. Now I work as a Family Resource Specialist and also provide bilingual support statewide. I'm so grateful to be working with SPAN, learning a lot, and providing support for other parents who deal with the same kinds of issues my family faces."
During National Work and Family Month, Family Voices would like to express gratitude for these brave and creative parents, who believe so strongly in the rewards of raising special children that they are willing to juggle inevitably busy home lives with work that assists other parents who have similar challenges.
Family Voices Executive Director Lynn Pedraza said:
"The parents and volunteers who work with the Family-to-Family Health Information Centers are an amazing example of selfless service. They juggle home and work in order to share what they have learned so other parents and their children can avoid some of the struggles they have experienced, and get the best help possible. Our government is currently developing how "navigators" will work within the national health insurance requirements proposed for consumer involvement to connect parents with the resources they need. As this approach to care coordination unfolds, we believe a wise move would be to model navigator programs after the work of the staff and volunteers of the Family-to-Family Health Information Centers. In the meantime, we hope National Work and Family month will bring attention to the efforts of these special parent heroes so their work can continue to be supported."
For more information please contact Melanie Rubin, Director of Communications, Family Voices
505-872-4777, mrubin(at)familyvoices(dot)org