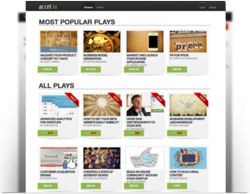 Accel.io guides are as easy to follow as home renovation guides with everything a business owner or employee needs to perform like a professional – at a fraction of the cost of outsourcing
Ottawa, Canada (PRWEB) September 06, 2012
Mercury Grove, a publisher of step-by-step guides for technology startups at StartUpPlays.com, today announced a new business handbook to help small business owners overcome the typical 80% failure rate, through a low-cost marketplace called Accel.io.
Building on its success with StartUpPlays.com, the Ottawa-based company now offers a site where small business owners can customize their Accel.io handbook with step-by-step guides on all aspects of running their operation.
Similar to an "app store", Accel.io publishes online guides that small businesses can use to build a handbook full of actionable "best practices" for everything from incorporating their business to managing their Facebook page, growing their blog, hiring staff, and making sales.
Accel.io guides are step-by-step task lists that include detailed descriptions, pro tips, images, videos, and file templates. Each Accel.io guide is written by a subject matter expert, professional consultant, or successful entrepreneur who has used the process with proven success.
"We want to help small businesses beat the nearly 80% failure rate by providing them with the ultimate resource of successful formulas that each business can tailor to their specific needs," says founder and CEO, Scott Annan. "We want Accel.io to become the Kindle e-reader of step-by-step guides for business -- the ultimate resource center for company owners, employees and partners."
"One hand washes the other: through our proprietary Accel.io publishing platform, any expert can easily build their own guide and market it through Accel.io, on our partners' marketplaces, or launch their own branded sites."
For example, an Accel.io guide titled "How to Get Your First 1,000 Customers" can be downloaded to a user's hadbook for $29. Produced by Paul DeJoe, founder of software lead management company Ecquire.com, the guide includes eight steps from "Get your first 10 paying customers" through to "Turn customers into evangelists". Each of the steps is fully explained, broken down into two to eight "tasks", supported by detailed templates.
"Our guides are as easy to follow as home renovation guides with everything a business owner or employee needs to perform like a professional – at a fraction of the cost of outsourcing."
Accel.io's first marketplace, startupplays.com, launched in February, has sold over 5,000 guides to entrepreneurs with very positive feedback from users. Early feedback about accel.io is equally positive. Anna Guest-Jelley, founder of Curvy Yoga, used an accel.io guide to grow passive her income. "I've heard plenty of ideas about passive income before, but I've found them difficult to implement because I was never sure how to get started. That's why I LOVE Erin Blaskie's 'How to Add Passive Revenue to Your Business.' Erin's writing is crystal clear and targeted to entrepreneurs who are ready to take action now -- and the format of the play makes a sometimes obtuse process very straightforward."