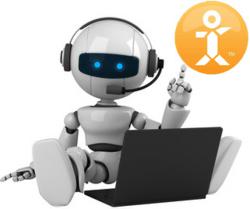 Turn more leads into sales with AI technologies
Sunnyvale, CA (PRWEB) July 31, 2012
Acobot, LLC is a leading developer of artificial intelligence (AI) live chat technologies. It has recently improved its chatbot to work with a variety of live chat software programs including AliveChat, live chat software by WebsiteAlive.
Currently, WebsiteAlive provides users with powerful and intuitive tools that help businesses to connect with their customers efficiently, securely and from just about anywhere. It reports that AliveChat is used by more than 11,000 web and mobile sites that range from e-commerce, professional sports and entertainment to hospitality and business.
Its number one goal is to help businesses succeed with products that are easy to use and install with no site disruption. Additionally, its product is so customizable that companies can quickly brand their AliveChat links and windows to match their website.
"And, if WebsiteAlive was to integrate our new and improved chatbot with its live chat software, it could exponentially increase a business's ability to communicate with its customers by up to 320 percent," Vic Duan, CEO of Acobot, says.
Acobot's chatbot it simple to use, easy and – free, so it provides many of the benefits that are already important to WebsiteAlive customers.
"With Website Alive, website owners already convert more browsing prospects into leads and sales," Duan says. "By adding Acobot, they can achieve even more."
So, how do the two programs work together? When a WebsiteAlive customer wants to use AliveChat, she logs into her Acobot account and turns off the robot with a single click so that live chat agents can communicate with visitors directly. And, when live chat agents go offline, the robot is simply turned on. This will hide AliveChat and enable Acobot on the website. So, all website visitors will now chat with the robot and never view an offline message again.
Together, Acobot and WebsiteAlive make it easy and affordable for small to mid-sized businesses to offer 24/7 live support based on a human-robot hybrid live chat solution.
For more information on how Acobot works together with WebsiteAlive, visit: http://acobot.com/websitealive .
About Acobot LLC
Acobot develops state-of-the-art AI technology and helps small to medium-sized businesses and nonprofit organizations improve their online results with AI chat applications.