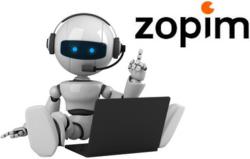 You can reach up to 320% more buying customers
SUNNYVALE, CA (PRWEB) July 23, 2012
Live chat software is here to stay and is increasingly being used for customer engagement and customer relationship management. And, in order to help businesses further engage with potential clients, Acobot LLC has improved its live chat robot to now offer automatic and seamless integration with live chat software Zopim.
"When Zopim users add the Acobot live chat robot feature to their website, they will not only increase their customer reach, but also their live support from 40 hours to 168 hours," Vic Duan, CEO at Acobot says.
Acobot's live chat robot or chatbot can easily be used with Zopim and is designed to replace human agents – saving time and money.
"In keeping those hours, coverage time is only about 24 percent," Duan adds. "This is where Acobot can make a real difference."
For example, a business owner installs Zopim on its website to offer human-based chat. When Acobot is added, the customer reach and support has now significantly increased because this chatbot serves customers when the human agents are offline.
Here is a potential scenario: An e-commerce handbag site gets a visitor at 10:15 p.m. EST. The customer is not able to determine if the shoulder bag that she wants has an adjustable strap or not. Acobot to the rescue. She can ask the question and get an instant answer. If she did not receive this information, she would likely jump to another site and continue shopping. So, the customer gets instant information; the business gets the sale; and the customer walks away happy, and likely to return again.
And, adding Acobot is simple. There is no extra effort needed on the part of the website administrator due to Acobot's seamless and automatic design; and it takes less than two minutes to get up and running.
"It can really make a difference in a business," Duan adds. "It's the new, smart way to chat."
For more information about how Acobot works with Zopim, visit http://acobot.com/zopim
About Acobot LLC
Acobot develops state-of-the-art artificial intelligence (AI) technology and helps small to medium-sized businesses and nonprofit organizations improve their online results with AI chat applications.