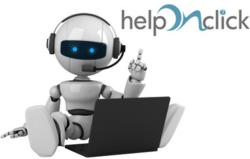 Not able to offer 24/7 live chat services? Our chat bot works to fill that gap.
SUNNYVALE, CA (PRWEB) July 24, 2012
Small to medium-sized businesses can now turn a static website into a powerful sales tool with live chat and artificial intelligence (AI) technologies. How? Acobot, LLC announced this week that it has added a new and improved feature to its chatbot that allows it to easily integrate and work with HelpOnClick, a leading live chat software.
"This improved feature allows businesses who are already using HelpOnClick to harness even more valuable prospects who may otherwise slip through the cracks," Neran Ashkenazi, CEO and founder of Israeli company, OnClick Solutions Ltd., says.
Businesses that already use live chat are building strong and lasting relationships with their customers, but they could be even stronger.
"Most small to medium-sized businesses are not able to provide live customer service 24 hours per day, seven days per week, even with live chat. However, our chat bot works to fill that gap," Vic Duan, CEO at Acobot says.
For example, most businesses offer live support during regular business hours. But, what happens the rest of the time? Customers are scrambling around websites trying to get answers or to find information with no assistance.
In the case of HelpOnClick, many of its customers are service-based. They include automotive, education, real estate, retail, travel and more. Visitors to sites such as these are looking for answers now.
So, imagine that a website is a traditional store. What would happen if no one was there to greet or help the customer? What if the business was not even aware that they had someone in the store? The answer is evident – they would miss a potential new client and a possible sale. The same is true with a website.
"HelpOnClick is well-known for its usability; we believe software should be simple," Ashkenazi says. Complex forms, confusing user-interfaces and hundreds of options have no place in HelpOnClick's products.
With this same belief in mind, the Acobot development team has made it simple and easy to install Acobot on websites and to integrate it with HelpOnClick. No changes to HelpOnClick installation or configuration are necessary. A forever-free subscription plan is also offered so that users can try it out without any pressure.
For more information on how Acobot works with HelpOnClick, visit: http://acobot.com/helponclick .
About Acobot LLC
Acobot develops state-of-the-art AI technology and helps small to medium-sized businesses and nonprofit organizations improve their online results with AI chat applications.