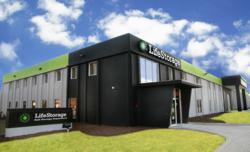 Addison, IL (PRWEB) October 11, 2012
LifeStorage, Chicago self storage provider for home, business and office solutions, is holding a Garage Sale Event at its Addison location on Saturday, October 13th, from 10am-4pm, located at 426 S. Westgate Street. Also, LifeStorage Addison will be working with the Northern Illinois Food Bank (NIFB) and accepting donations at this location in tandem with the Garage Sale Event. To promote the Sale, Store Manager Karin Selga sent out a store-wide e-blast, is handing out fliers, using word of mouth, and utilizing the local chamber of commerce. LifeStorage Addison is opening its doors to LifeStorage customers and local community members and businesses alike, letting interested parties set up to sell and promote, based on available space.
"With garage sales being a big hit with many of our sister stores, and we having some customer interest, we decided to go forward and hold one of our own. In addition, we wanted to go the extra mile with our Garage Sale Event, so we're doing a little more for the community," Selga said. "That's why we've partnered with the NIFB and are accepting donations now and at the event. We want to help our business out, but also do our best to help out a worthy organization, and we think the foot traffic we generate will do just that."
The Northern Illinois Food Bank, centered in Geneva and started in 1982, is a non-profit organization that spans 13 counties with over 600 network partners. Collaborating with food manufacturers, local grocers, corporations, foundations, and of course individual help, over 60,000 different people are serverd each week. The Food Bank's mission statement and vision is to feed the hungry in north Illinois, and "to lead the northern Illinois community in solving hunger by providing nutritious meals to those in need through innovative programs and partnerships."
LifeStorage Addison is proud to become one of the partners of the Food Bank, and as the Garage Sale event draws closer, Selga thinks they've pulled out all the stops to make it successful for both LifeStorage and the NFIB.
"We have our grass-roots promoting in high gear to get the word out, we have a fall-theme with leaf-shaped cookies and hot, spiced cider, plus coffee, donuts, and water for refreshments, and we have our sister stores' proven formula behind us. Working with the Northern Illinois Food Bank is also very important to me as I know people in my own community that have benefited from the NIFB. It's a charity I choose to support, and working with them on a professional level has been very fulfilling. We think this event is going to be big, and we're happy to oblige our customers and community while helping out such a worthy charity."
For more information on the Garage Sale event, please call LifeStorage Addison at 630-478-9929.
To find the nearest LifeStorage location, or for more information about LifeStorage and its services, please visit: http://www.lifestorage.net/