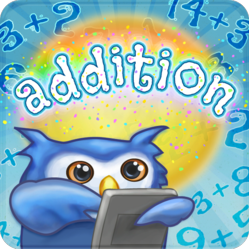 A fun way to encourage the development of fundamental math skills for all ages
San Mateo, CA (PRWEB) March 29, 2012
Selectsoft, a leading developer of family-friendly games, has released Addition Frenzy and Addition Frenzy HD, a fun-filled math game for iPhone®, iPad® and Android™ tablets and phones. Children can practice their addition skills by solving simple equations to reveal colorful pictures of animals. As the levels progress, the goals get harder and the the time gets shorter for an extra challenge. With an easy-to-use interface and straightforward gameplay, Addition Frenzy is a fun way to encourage the development of fundamental math skills for all ages. This educational game is available now for the iPad® and iPhone® on the App Store and on the Amazon Appstore.
Addition Frenzy features bright art and colorful cartoon characters to create an inviting, child-friendly interface. Dog is thinking of a number, and Owl must add up the numbers to reach the target. A large grid is filled with numbers from 1 to 9, and users choose the correct digits to complete the sum. Tapping on a number adds it to Owl's total, and up to four numbers can be used together to reach the target. As numbers are used, they disappear from the board and reveal a hidden painted animal photo. Each level gets harder as the goal increases and the time to finish decreases. It's a simple and entertaining way to practice addition that's perfect for all learners.
Addition Frenzy HD and Addition Frenzy are designed especially for mobile and tablet devices to provide educational entertainment for on-the-go users of all ages. Addition Frenzy is the latest in Selectsoft's ongoing line of educational game apps which includes Super Word Search! and Children's Picture Dictionary. As a family-oriented developer with a background in both casual games and educational programs, Selectsoft is committed to creating apps that combine learning with fun games.
Addition Frenzy Description:
Dog and Owl want to see what's in the box, but it's all covered by numbers. Help Owl pick numbers that add up to what Dog is thinking and reveal the hidden picture!
Choose up to 4 numbers to reach the target sum and earn points. How quickly can you add the numbers to get the right total? The faster you are, the higher you score. Clear the board before the timer runs out to reach the next level and uncover another picture. As the levels progress, the target gets bigger and the time gets shorter!
Features:

Bright, colorful, easy-to-use interface
Increasing difficulty as the levels progress
12 painted animal photos to reveal
A fun way to practice addition
Pricing and Availability:
Addition Frenzy 1.0 is available for $1.99 USD and Addition Frenzy HD 1.0 is available for $2.99 USD (or equivalent amount in other currencies) and is available through the App Store in the Education and Games categories and on the Amazon Appstore.
Headquartered in San Mateo, California, Selectsoft is a leading developer of family-friendly games and apps, creating best-selling games for iOS, Nintendo DSi(TM) and Wii(TM), Android, Mac and PC. It's also one of the largest independent publishers of PC and Mac software, featuring licensed content from Broderbund, Disney, The Learning Company and many more. For almost 20 years, Selectsoft has been dedicated to providing affordable, fun entertainment for the whole family. Copyright (C) 1992-2012 Selectsoft. All Rights Reserved. Apple, the Apple logo, iPhone, iPod and iPad are registered trademarks of Apple Inc. in the U.S. and/or other countries. Amazon is a trademark of Amazon.com, Inc. or its affiliates. Android is a trademark of Google Inc. Other trademarks and registered trademarks may be the property of their respective owners.