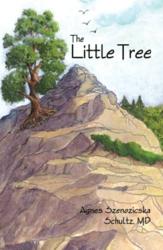 Search for it today and learn how to be struck by simplicity!
(PRWEB) November 13, 2012
Why is The Little Tree, by Dr. Agnes Schultz, taking off worldwide? The message is everything, as they say, but its simplicity grabs at the strings of the heart. And new readers everywhere are soaring on this little seed and the significant things it learns and discovers as it strives to grow into a strong tree.
Dr. Schultz has successfully struck at readers' hearts with the tale of this little seed that, once clinging to the safety of its mother, blows away one stormy night to a rocky hillside, where there are neither shrubs nor trees. Though frightened, the little seed remembers the things its mother said about how to grow strong, and finds the courage to secure itself and grow into a strong and beautiful little tree just like its mother.
Even more importantly, though lonely, the tree realizes a greater purpose as a solitary tree on a rocky hillside—to provide shelter to the animals—particularly the birds—in need of a place to rest or build their nest in.
The little tree is proud of what it has become, and never forgets the important lessons it has learned from its mother—the lessons that helped it grow into a strong and wise tree. Likewise, Dr. Schultz teaches these important lessons to children and adults everywhere in her incredible new book, The Little Tree.