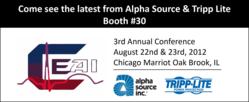 Both Tripp Lite and Alpha Source are innovators in our industries, and by coming together we are able to provide our customers the latest and best products.
Milwaukee, Wisc. (PRWEB) August 09, 2012
Alpha Source, Inc., a global medical equipment parts distributor and battery-pack manufacturer, will be teaming up with Tripp Lite, a world-leading manufacturer of power protection and connectivity solutions, by exhibiting together at the Clinical Engineering Association of Illinois' (CEAI) Third Annual Conference. Alpha Source and Tripp Lite will be at booth number 30. The 2012 conference will be held at the Marriot in Oak Brook, Ill., and will run from August, 22nd-23rd.
This is the third year Alpha Source has been a part of CEAI's Annual Conference. Alpha Source and Tripp Lite's booth will showcase some new innovations from Tripp Lite including Tripp Lite's SMARTRACK™ Series. Alpha Source will also have other popular medical repair parts and solutions on hand.
According to Norine Carlson-Weber, president of Alpha Source, "We are very excited to take our partnership with Tripp Lite to a new level by exhibiting together. Both Tripp Lite and Alpha Source are innovators in our industries, and by coming together we are able to provide our customers the latest and best products."
"As our partnership with Alpha Source continues to grow, we find more ways to collaborate in order to provide customers the solutions and quality products they need, and exhibiting at CEAI's Annual Conference together is just one of the many collaborations to come," according to Molly Jantzen, global director medical sales and marketing of Tripp Lite.
This year's CEAI conference titled "Healthcare Reform is Now!" will include educational presentations, and an exhibit hall. Over 200 attendees are expected to be at the CEAI Conference, along with 60 exhibiting companies.
The CEAI has more than 200 members, including clinical engineers, biomedical equipment technicians, consultants, and other healthcare technology and medical equipment professionals.
About Tripp Lite
Outstanding product reliability and exceptional service have been Tripp Lite trademarks for 90 years. Tripp Lite´s innovations include the world's first UPS system designed specifically for personal computers, and the world's most trusted premium surge suppressor—the Isobar®—with more than 18 million in use. Tripp Lite maintains the highest level of ready-to-ship inventory in the industry with more than 2,500 different products, including UPS systems, rack systems and cooling solutions, PDUs, PowerAlert software for enterprise-level system management and control, surge suppressors, KVM switches, cables and connectivity products, inverters, power strips and notebook accessories. Headquartered in Chicago, Illinois, Tripp Lite maintains a global presence with fully staffed offices worldwide. Additional information can be found by visiting Tripp Lite's website: http://www.tripplite.com.
About Alpha Source, Inc.
Located in Milwaukee, Wisconsin, Alpha Source, Inc. provides innovative solutions in procurement and logistics for a variety of industries including healthcare and government. Established in 1986, Alpha Source is an ISO13485:2003 battery pack manufacturer with an emphasis on products used in medical and technical applications. Alpha Source distributes a variety of medical equipment parts including lamps, batteries, monitoring accessories, fiber optics, O2 sensors, power protection products, diagnostic Instruments and supplies, and mounting solutions. For a complete list of products or for more information on Alpha Source, visit http://www.alphasource.com or call 800.654.9845.