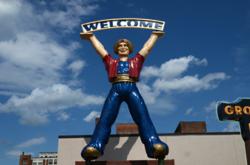 Cincinnati, OH (PRWEB) June 22, 2012
Cincinnati-based sign museum has launched its annual online auction offering goods and services of special interest to anyone in the sign industry. Museum supporters (listed below) have donated items for every day use. This is an opportunity to find great deals and to support the American Sign Museum at the same time. Proceeds go to the ASM's operating budget and the acquisition and restoration of signs. Auction ends June 30 at 8 pm EST.
The American Sign Museum recently moved to new headquarters and showplace, and will be celebrating on June 23 for the grand opening. Sign enthusiasts can join in the fun and show their support by bidding on items of interest. Auction items include: Roland BN-20 VersaStudio 20" printer/cutter, Nikon D3100 14.2MP Digital SLR Camera, R Tape Conform 4075RLA® High Tack Application Tape w/ Release Liner Adhesion, Arlon DPF 6000XRP Wrap Kit and Banner Ups PowerTape PowerTab Banner Making Kit. Numerous other products and services are available. Interested parties can place bids online.
Contributors include Allanson, American Biltrite Inc., Arlon , The Big Picture Magazine, Cincinnati Sign Supplies, Denco Sales, E.L. Hatton Sales Co., EGL, France, GE Lighting Solutions, International Sign Association, Matthews Paint Company, Miratec Systems, Oracal, Post Coats, R Tape, Roland, DGA, Sign Builder Illustrated, Signcraft, Signs of the Times and Screen Printing En Espanol, Signs of the Times Magazine, SloanLED, Spraylat, SytLogic, LLC, US LED, Ventex Technology, WeberMade, and more are being added.
For more information about the online auction or the grand opening celebration visit signmuseum.org or contact Tod Swormstedt at 513-541-6366.
About the American Sign Museum
The American Sign Museum's mission is to inform and educate the general public, as well as business and special interest groups, about the history of the sign industry and its significant contribution to commerce and the American landscape. The signage reflects the history, technology, commerce, and culture of our communities. Through the museum, signs and the sign industry can now tell their own stories.