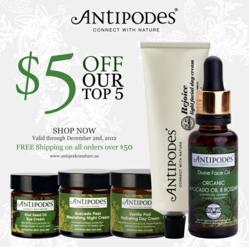 (PRWEB) November 24, 2012
Antipodes Skincare North America has announced they'll be taking $5 off their certified organic and premium natural skincare Top Sellers for Cyber Monday. The sale will extend through December 2nd and also includes free shipping on orders over $50.
Several of the skincare products on sale are scientifically proven to stimulate the synthesis of collagen production at a cellular level thanks to a unique formulation featuring bioactive native plant extracts. In an independent laboratory test conducted on human fibroblast skin cells, results were impressive, showing that synthesis of collagen was significantly stimulated in human fibroblast skin cells by at least 51% and up to 92%. Antipodes Skincare is never, ever tested on Animals.
The Top 5 Best Sellers available for $5 off Cyber Monday through December 2nd are:
Kiwi Seed Oil Eye Cream- Ultra-rich Vitamin C from the seed of the New Zealand Kiwi fruit works superbly to help repair damaged tissue. Containing carrot seed oil, aloe gel and 100% pure avocado oil, your skin will love this fragrance-free product. Scientifically shown to stimulate synthesis of collagen production in human skin cells by up to 82%.
Avocado Pear Nourishing Night Cream- A facial night cream features calendula oil from marigold petals highly regarded throughout history for healing and repairing properties. Active manuka honey soothes and moistens the skin, while potent antioxidant Vinanza Grape© helps neutralize free radical damage. Scientifically shown to stimulate synthesis of collagen production in human cells by up to 92%.
Natural Vanilla Pod Hydrating Day Cream- Revolutionary Vinanza Grape©, a potent antioxidant extract from Malborough sauvignon blanc grapeseeds, keeps your skin healthy and energized. Native New Zealand manuka honey has powerful antibacterial properties to keep skin clear and fresh.
Organic Rejoice Light Day Cream- All organic ingredients of manuka and avocado oil combine with macadamia and jojoba to balance and moisturize. Manuka flower oil has antibacterial, healing and protective properties to benefit the skin and the extraordinary collagen boosting powers of avocado oil soften and regenerate. Boasts joyful fragrances of sweet almond and vanilla pod. Scientifically shown to stimulate synthesis of collagen production in human skin cells by up to 59%.
Organic Avocado Oil & Rosehip Divine Face Oil- Scientifically shown to stimulate Type I collagen in human skin fibroblast cells by up to 51%. Give a lift to tired, stressed and sun-damaged skin with this nutrient-rich, certified organic face oil that helps to deliver essential nourishment for fresh, healthy skin. The superior collagen boosting action of avocado oil helps reduce the appearance of lines and age spots, while added rosehip helps avocado oil target scars and wrinkles.
Integral Sense Brands was born out of consciousness to offer only the finest premium, certified organic, non-toxic, personal care products available. A distributor of brands such as John Masters Organics, butter LONDON, Antipodes Nature, Adara, Figs & Rouge, and SAMA, their beauty categories available include: haircare, skincare, bodycare, lacquers, cosmetics, and makeup.