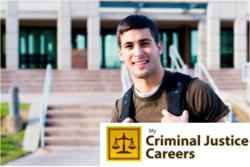 In April, the unemployment rate remained steady at 8.1 percent.
Provo, UT (PRWEB) May 08, 2012
The U.S. Department of Labor reported that in April, the unemployment rate remained pretty much steady at 8.1 percent. However, job creation fell to 115,000 compared to last month's 154,000 jobs. In this floundering economy, My Criminal Justice Careers remains committed to being an online resource to link individuals with online schools where they can earn a degree in a criminal justice related field, one of the most secure industries out there.
The report noted that employment for government agencies remained unchanged last month. While this isn't necessarily a sign of improvement for the criminal justice field, it at least shows the resilience of the industry. Despite falling employment in other industries, the government sector has kept a steady number of jobs, with cuts in one area but additions in others. The My Criminal Justice Careers website is designed to help individuals fulfill the requirements to work in this secure industry.
Criminal Justice Jobs can vary in their educational requirements for workers. While working as a Parole Officer may require just an associate's degree, working in Forensic Psychology will require a doctorate. The more education and training an individual has, the greater their opportunities within this sector will be. All of the tools offered on the My Criminal Justice Careers website are designed with this in mind.
Despite the ever-changing state of the economy, an education is the best way to ensure job security for any career field. Criminal Justice Careers(LINK) will always be a necessary part of our society. Thus, during tough economic times, anyone trained in this field is more likely to not only find employment, but to hold onto it once they have it. The "Search by Degree" tool on the My Criminal Justice Careers homepage is built to help degree-seekers find their ideal level of education and connect with a school that can offer it. Other helpful website tools include the "Recommended Degree" tool for various online schools, and the information-packed web pages describing the ins and outs of each careers, such as "Secrets, Spies and Working for the CIA". My Criminal Justice Careers will always remain committed to helping individuals complete their education under any economic circumstances.
About My Criminal Justice Careers
My Criminal Justice Careers was implemented to help degree-seekers connect with online colleges and universities. Through the convenience of online schools, they will be able to obtain the education and other preparation necessary to start a successful career in the criminal justice field.