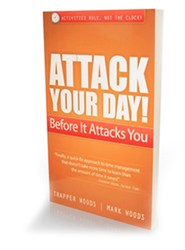 We help people get things done by choosing the right activities and staying focused all day - Mark Woods
Saint. Louis (PRWEB) August 03, 2012
AttackYourDay, located in Anthem, AZ and headed by Mark Woods, launched a new program to help companies and individuals get more out of their day by training them unique time and product management skills.
Established in the late 90's as the exclusive time management training partner for the Day-Timer corporation, the Attack Your Day company has evolved to match trends, technology and demands in the training business. So Woods launched the AttackYourDay.com web site and Attack Your Day blog approximately two years ago.
To help the company stay focused on providing top quality training, AttackYourDay.com turned to the power of email marketing in 2003 and using the 1AutomationWiz broadcast email marketing software in their online trainings and for sales and marketing tasks.
"We work with individuals, small businesses, and fortune 500 companies to maximize productivity," said Mark Woods, President of Attack Your Day, online at: AttackYourDay.com. "We sell books, DVD's, live and on-demand training using email marketing as one method of product delivery and to stay in contact with our customers and prospects."
"Our goal is to become a leading provider of personal and professional development resources for individuals and companies seeking to become top performers," said Woods.
Current and up-and-coming products and services of Attack Your Day include a new program that is scheduled to be released this fall called, "Work-Life Integration."
About:
Attack Your Day: Current and Past Clients: Day-Timer, Acco Brands, Viaero Wireless, Arizona State University, Northcentral University, Brookline College, Pearson Publishing, Lance Foods, Cengage Publishing, Arizona Private Schools Association, AAA of Michigan, Irvine Companies, Servpro, Lance Foods, T-Mobile, Sprint, Pima Medical Institute, and The Mahoney Group, (AZ largest private insurance company).
YouTube channel: http://www.youtube.com/attackyourday
Contact
Mark Woods
39506 N. Daisy Mountain Drive
Suite 122 Box #494
Anthem, AZ 85086
Phone: +1 888.972.0800