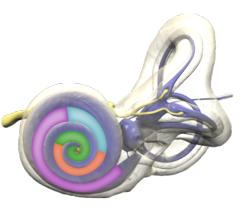 "More and more professors are finding that students turn to the internet first for answers and information, making it a challenge to keep them engaged in text-based courses."
London, UK (PRWEB) October 31, 2012
Primal Pictures has launched Audiology: Anatomy and Physiology of Hearing, an online learning tool for students and faculty in Communication Science and Disorders and Audiology programs. This web-based resource provides comprehensive 3D views of the ear and related anatomy for audiology students who prefer interactive, online learning, and is the latest specialized product from the award-winning publishers of the most complete and medically accurate 3D model of human anatomy.
"More and more professors are finding that students turn to the internet first for answers and information, making it a challenge to keep them engaged in text-based courses," said Peter Allan, CEO of Primal Pictures. "Audiology: Anatomy and Physiology of Hearing helps faculty create a fully engaged, virtual learning experience for students, with detailed clinical content supported by interactive 3D images."
Audiology: Anatomy and Physiology of Hearing offers 3D views of the outer, middle and inner ear, the cochlea, auditory and facial nerves, the central auditory pathway, and illustrates the transmission and transduction of sound in the outer and middle ear. Users can rotate any anatomical view 360 degrees and add or remove layers from the visual models. The product also includes specialized physiology content for the cochlea, auditory nervous system, and encoding sound in the cochlea via the Basilar membrane and hair cells, clinical details on hearing disorders affecting the outer ear, middle ear, inner ear, and the nervous system, and case studies and quizzes to support student comprehension.
"Beyond the depth of information available, faculty enjoy the flexibility of this product and are using it in multiple courses," said Catriona Kerr, Associate Director of Sales for Primal Pictures. "While some instructors are completely replacing a core textbook with this online tool, others use Audiology: Anatomy and Physiology of Hearing as a supplement in the many courses where students need to refresh their knowledge of the anatomy of the ear."
Primal Pictures' range of 3D human anatomy titles are already used by more than 500,000 students and 70,000 educators at over 600 colleges and universities around the world. Its flagship product, Anatomy & Physiology Online, was named the best Digital and Online Resource in the British Medical Association's Medical Book Awards.
More information and subscriptions are available at primalpictures.com/audiology.
ABOUT PRIMAL PICTURES
Primal Pictures offers the most complete, detailed and medically-accurate 3D model of human anatomy for students, educators and health care practitioners. Primal Pictures' 3D anatomy software is widely adopted in education and it is used for patient, practitioner and student education in over 20 countries. In 2012, over half a million students will learn anatomy using Primal software. In the past 12 months, Primal won the British Medical Association's annual prize for the best digital resource, and the Queen's Award for Enterprise: Innovation 2012, the highest official award that a British business can achieve.