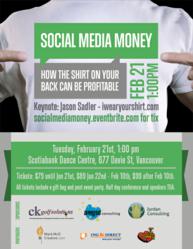 Social Media For Profit
Vancouver, BC (PRWEB) January 12, 2012
Aussie Pet Mobile Canada has partnered with Ck Golf Solutions and team to bring Jason Sadler of I Wear Your Shirt fame in Florida to Vancouver for a half day conference.
As Aussie Pet Mobile Canada further embarks on it's Social Media marketing efforts they felt it important to share about leveraging social and partnering in local events such as this.
This conference is the brain child of local Vancouver Ck Golf Solutions after hosting Scott Stratten of UnMarketing in December 2010 with Jordan Consulting and Amuse Consulting. The UnMarketing conference was about engagement and having new users to the social platforms out for a day of learning. The natural progression led to organizing how to monetize social media.
Social Media Money- How The Shirt On Your Back Can Be Profitable brings Jason Sadler of I Wear Your Shirt to Vancouver to share his story.
Social Media and T-Shirts?
Jason Sadler will share how you can monetize the social media world. Learn the story of how Jason built IWearYourShirt.com from nothing and on bare bones marketing along, got noticed by media outlets such as CNN and The Today Show, just to name a few. Jason has worked with over 1,000+ companies including Starbucks and Nissan. Jason will share how his use of popular and effective social media outlets, such as Twitter, Facebook, YouTube, Ustream and Flickr, can work for any business. This conference is for everyone from the social media newbie to the highly advanced user.
Social Media is here to stay. It is a part of daily Marketing and PR. It pays to incorporate all efforts together and this conference share with you just that. Monetizing social for profit.
Social Media Money- How The Shirt On Your Back Can Be Profitable takes place on February 21st, 2012 at the Scotia Bank Dance Theatre in Vancouver, B.C. This is an afternoon event that includes Jason Sadler as Key Note followed by engaging panel discussion with local businesses and entrepreneurs on leveraging social media for profit.
Aussie Pet Mobile Canada also shares partnership spot with ING Direct and Mark McD Creative.
###