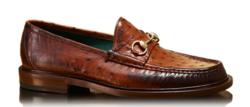 One guy ordered 12 pairs of Gucci loafers in one purchase, and had them sent straight to his offices."
(PRWEB) August 07, 2012
With the world's economy seemingly stuck in first gear you may believe that the luxury goods sector would be suffering as people cut back on designer labels and luxury brands. Not so according to menswear retailer, MilanStyle.co.uk, a website which specialises in high-end Italian and European designer labels for men and is experiencing a surge in demand for 'status symbol' brands from Wall Street bankers.
The company's director, Alexander Bailey, explains:
"We are seeing an incredible number of customers from the financial districts of Manhattan and London, England, increasingly ordering what are typically seen as 'status symbol shoes' by the likes of Prada, Salvatore Ferragamo and Gucci. They tend to order several pairs at once, one guy ordered 12 pairs of Guccis in one purchase, and had them sent straight to his offices."
His comments are only confirmed by PPR's (Gucci's parent company) recent set of first half-year results, with the company's recurring net income for 2012 up 25% and revenue up by 17%.
The webstore is also receiving feedback from their customers that they want to be seen in styles and brands which are seen as expensive and exclusive, asking the website to source ever more expensive and exotic leather goods.
"They tend to buy all of the classic men's Gucci shoes. Especially popular are those that were made famous in the 1980s and seen again in the recent 'Wall Street' movie sequel."
But why are they dressing this way again?
"The guys tell us it's a double edged sword for them: if they aren't seen in these luxury brands, their clients will wonder if they aren't making enough money to be able to afford these brands."
A more discreet option are the men's Prada loafers: "Customers over 35 tend to prefer the more discreet, 'unbranded' Prada shoes we offer as these are less likely to have an identifiable logo on them. These guys aren't ready to look 'flashy' again just yet."
Another perennially popular option are the men's Salvatore Ferragamo shoes which are also instantly recognisable to those in the finance industry. "Wall Street bankers tend to be either a Ferragamo or a Gucci man".
The website is also witnessing a boom in customers buying more experimental European designers such as Ann Demeulemeester menswear, with Alexander explaining that "they want to stand out from their friends during their downtime, at the club or the bar."
Perhaps most interestingly of all, the webstore is predicting a return to fashion of the power suit, first made famous in the 1980s by Giorgio Armani, by the end of the year.
About MilanStyle.co.uk:
Founded in 2010, MilanStyle.co.uk provides gentlemen with the finest taste with the ultimate online destination for men's designer clothing, footwear and accessories. Featuring the world's leading luxury brands, including Dior Homme, Rick Owens clothing, Prada, DSQUARED2, Yves Saint Laurent menswear and many more, the site offers international shipping so men around the globe can add an extra touch of exclusivity to their wardrobes.