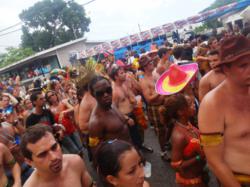 Marville Travel is currently offering "Crop Over Special" packages for air travel from Toronto to Barbados in August.
(PRWEB) March 28, 2012
In Barbados the arrival of the summer season means time for the annual Crop Over Festival.
What was once a simple harvest festival is now the country's biggest and most popular festival, attracting thousands of visitors from around the world.
For nearly two months every summer, beginning in June and running until the first week of August, this island nation is abuzz with street fairs, music, dancing, parades and more.
It's a huge party that goes on night after night - perhaps not surprising from the country that prides itself on being the birthplace of rum.
View the Barbados Crop Over 2012 Events Calendar.
Marville Travel is a Mississauga-based travel agency in Canada that specializes in Barbados and the Eastern Caribbean, and is currently offering "Crop Over Special" packages for air travel from Toronto to Barbados in August.
It's a great excuse to escape the serious hustle and bustle of Toronto or any other city in the summer and have some fun at one of the Caribbean's biggest parties.
Crop Over culminates with a grand finale carnival and parade in the first week of August called the Grand Kadooment.
Last year, the event attracted lots of international attention thanks to a visit by the island's most famous export, Rihanna. The singer was there to perform as part of the closing of Grand Kadooment, but it was pictures of Rihanna dancing and partying at the festival that were plastered in tabloids around the world.
Statistics show that more and more people are traveling to Barbados. According to the Barbados tourism stats, visitor numbers to the island were up 6% from 2010 to 2011. Split between long-stay visitors and passengers aboard cruise ships, this accounts for over a million arrivals over the year.
Every year among these many visitors are multitudes of people who travel from Toronto, Canada and the USA to Barbados to relax, check out the beautiful beaches and enjoy the vibrant culture.
When looking online for information on Toronto, http://www.TotallyToronto.net is a travel city guide for Toronto, but now Marville Travel is giving travelers a chance to visit Barbados.
Totally Barbados is an authoritative guide to what's happening, where to stay, where to eat and everything else travel guide to the tropical paradise of Barbados. Be sure to check out their guides to beaches, nightlife, events schedules and more.
Marville Travel can take a traveler from being Totally Toronto to Totally Barbados this summer.
"Totally Toronto is positioned to make Toronto; totally yours."
Totally Canada Inc., operating under the name 'Totally Toronto' is based in Toronto, Canada with offices in Barbados. The company was incorporated under the Business Corporations Act (Ontario) on September 23rd, 2010.
Totally Toronto aims to help local businesses shine alongside Toronto's corporate titans. With valuable business exposure on Totally Toronto, businesses will gain increased exposure online, before a visitor even steps outside their home, hotel or airplane.
Promoting all there is to know about Toronto - that's Totally Toronto.
Media Contact
Founder and Managing Director
Brett Callaghan,
Totally Canada Inc. / Totally Toronto / Totally Barbados
30 Silvermoon Avenue,
Toronto, Ontario,
L7E 2&9, Canada
For more information on Totally Canada Inc. / Totally Toronto / Totally Barbados, please call (866) 978-5898 or (416) 628-8795.
Email: service at totallytoronto.net