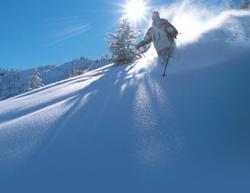 Thank you for an incredibly professional experience. You guys were definitely on top of things and completely organized. - Prashant, SF
Concord, California (PRWEB) November 30, 2012
Now in its 17th season, Bay Area Ski Bus's luxury coaches run every Saturday & Sunday, plus 2-3 midweek days per week with pick-up locations in San Francisco, Oakland, Walnut Creek, Sunnyvale, Foster City, San Jose and Pleasanton. With almost 2,000 bus trips under its belt, staff on both shores of Lake Tahoe and a fleet of experienced trip hosts and drivers, the Bay Area Ski Bus is a safe and convenient way to get to the slopes. The buses are stylish and comfortable, each with a restroom and multiple flat screen TVs for movies, not to mention free WiFi on board many of the coaches.
With today's gas and lift ticket prices, the Bay Area Ski Bus is a sweet deal—starting at just $99 for adults and teens, $79 for children and $89–$99 for seniors. A one-day trip includes transportation up and back, a lift ticket, continental breakfast on the bus and après-ski refreshments. The Bay Area Ski Bus saves money and time spent on driving, parking at the resort and waiting in lift ticket lines, leaving more time for skiing and relaxation. Specialists are on hand for arranging group trips.
With Holiday Season fast approaching they have added several trips to their schedule to accommodate the families that will be looking to fill that ski/snowboard fix during this year's Holiday Season.
Chrissy, a new Bay Area Ski Bus customer, said, "Just wanted to give a shout out, SkiBus was the greatest! I really enjoyed myself, met great people, and our driver was super safe."
Looking to go further than Tahoe? Ski Ride Tours, sister company to Bay Area Ski Bus, offers the following 2013 destination packages: Revelstoke & Silverstar, BC from Jan 13-20. Grand Targhee, Sun Valley, Jackson Hole from Feb. 2–3. Val D'Isere, France from Feb 16-24 and Breckenridge, Vail, Keystone, Colo. from March 9-15. As well as a week of Heli-Skiing in Cordova, AK from Mar 23-30. These trips, hosted by owners Brian and KC McCooey, include roundtrip airfare, lodging, lift tickets and shuttles. More Information on these trips here.
For more information, call (925) 680-4FUN or check out https://www.bayareaskibus.com.