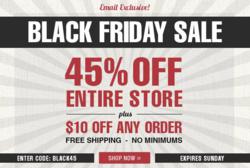 Phoenix, AZ (PRWEB) November 22, 2012
The Christmas season has begun and households are filled with a flurry of activities. It is time to prepare the home for the winter season, purchase gifts, make holiday plans, and finish those last minute home and decor updates that make the home bright, comfortable, and cheerful for family visitors. Perhaps the kids need new bedding to vamp up their rooms, or Grandma needs a more comfortable guest bed than last year. Shabby, worn sheets pulled out of the linen closet may not impress guests and need to be replaced pronto. With all the Christmas gifts to buy, it is hard to think about spending more money on bedding and home decor. Bedding.com wants to help you dress up your bedrooms for the holidays without breaking the bank.
Competitive discount prices, quality products, and great customer service have already made Bedding.com a highly rated site. In addition to great everyday prices, the company offers free shipping year round on all their products. This weekend, Bedding.com is extending their Black Friday sale to include the Wednesday before Thanksgiving, through the Monday after Thanksgiving. Starting Wednesday, customers can get 45% off their entire order using the code Black45, plus a free $10 credit to spend on new sheets, comforters, and all other bedding products at Bedding.com.
Savvy shoppers know that the lowest prices of the year on bedding and home decor products can be found on the weekend after Thanksgiving. Many retailers are now offering the same in-store discounts to online shoppers this season. Battling long lines and customer stampedes can discourage many people from getting the deep discounts offered on Black Friday. Many times, the best sheets and comforter sets are only sold in limited quantities and not available to everyone. Bedding.com offers the convenience of shopping from home, with no limited quantities, and free shipping on all products.
Shopping online is convenient and allows you access a larger selection of sale items than most brick and mortar stores. This weekend, Bedding.com is offering quality bedding of any style or budget at 45% off their normally competitive prices. Concerned about the added cost of shipping, or the risk of not being able to see the product before you purchase? At Bedding.com you can enjoy risk free shopping with a satisfaction guarantee, a price match guarantee, and free shipping everyday on every product.
Be prepared for the next wave of house guests by having the bed sets that you know will be appreciated by anyone who sleeps in them. At Bedding.com anyone can do exactly that, and you can do it at incredible prices this weekend.
Headquartered in Gilbert, AZ, Select Shops owns the leading online destinations for ready-to-install and custom-made home decor, including SelectBlinds.com, SelectRugs.com and Bedding.com. Bedding.com offers competitive pricing, security and convenience, online shopping, live assistance, customer satisfaction guarantees, and strong warranty programs on all of its products. For more information, please visit http://www.bedding.com.