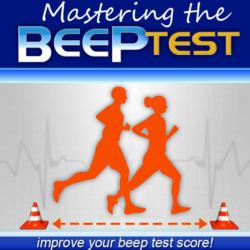 Mastering the beep test is a highly specialized fitness program that focuses specifically on helping people who want to improve their beep test score.
Melbourne, Australia (PRWEB) April 30, 2012
In a world where crime fighting is not relegated to superheroes, but to normal and very much mortal police officers, steps are taken to ensure that law enforcement is carried out by prime specimens of humans dedicated to keep law and order. This band of brave men and women and their service to society were recently recognized in the celebration of the 150th anniversary of the New South Wales Police Force. Congruent with the event, the Beep Test Academy released its new product to help cops qualify for duty, a video program called "Mastering the Beep Test".
"What I'm out to do with my program mastering the beep test is to teach my clients both important aspects of improving their score and that is, of course, ensuring that their fitness training is very specifically divided to the needs of the beep test, and the other aspect that's equally important is to focus on improving the technique, which determines the way that you actually go about performing the beep test," explains Russell Kempster, co-founder of the Beep Test Academy.
Russell spent 12 years in the Victoria Police as an officer. He was an instructor at the Victoria Police Academy, where he trained and tested both recruits and experienced officers in a wide range of subjects from fitness to firearms. He also conducted training of new instructors in the area of defensive tactics.
As an experienced fitness trainer, Russell was able to identify the problems that limited people taking the police fitness exam from achieving their fitness potential. The beep test particularly stood out as a problem area, having the highest failure rate. This led him to create a beep test training program to assist police colleges in this respect. The program became very much in demand, especially among those wishing to join the police force, and before long, word about it had spread to other sectors, such as the fire brigade, the army and defence force, as well as the sports community.
Russell has now left the force to concentrate on helping anyone who needs to improve his or her beep test score. Together with long-time friend Mark Standeven, he founded the Beep Test Academy, which has since helped hundreds of people around the world improve their beep test score. They recently released a beep test download video program to make the training accessible to more people.
"Mastering the beep test is a highly specialized fitness program that focuses specifically on helping people who want to improve their beep test score," states Russell. "There is no need to attend any live sessions. This is a stand-alone video course." The training video does include footage from live sessions to give customers an idea of what they're actually supposed to do.
These days with rampant crime being part of the norm, the courage and the dedication of the police are constantly put to the test. Everyday cops may not have supernatural powers, but the law enforcement institution makes sure that they are physically fit to perform their sworn duty. Passing the beep test is certainly one way of determining if they're up to the task.