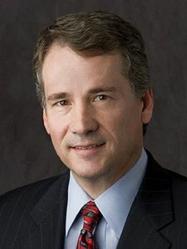 There has never been a more important time to apply Peter's insights, to stimulate effective management and responsible leadership.
CLAREMONT, Calif. (PRWEB) August 21, 2012
The Drucker Institute at Claremont Graduate University announced today that Jack Bergstrand, the chief executive of the consulting firm Brand Velocity, has joined its Board of Advisors.
Bergstrand, the former chief information officer for The Coca-Cola Co., founded Brand Velocity in 2001. The Atlanta-based firm specializes in helping corporate clients successfully design, implement and run large-scale reinvention projects. Much of BV's approach to business is based on Peter Drucker's principles for making knowledge workers more productive.
"As much as anyone I know, Jack is putting Peter Drucker's concepts into practice," said Curt Pullen, the Drucker Institute's chairman and executive vice president of Herman Miller. "He is a most welcome addition to our board because he brings a remarkable blend of both insight and passion to our work."
Bergstrand began his career at Coca-Cola in 1979 and, in addition to serving as the company's CIO, was chief financial officer for Coca-Cola Beverages Ltd. in Canada and chief marketing officer for Coca-Cola Enterprises in New England. Bergstrand has three master's degrees—in management from the Stanford University Graduate School of Business, education and human development from George Washington University and advertising from Michigan State University. He is the author of the Drucker-inspired book, Reinvent Your Enterprise.
"Jack has been a longtime friend of the Drucker Institute, and it's wonderful to have him in this new role," said Rick Wartzman, the Institute's executive director. "His extensive business experience, along with his deep knowledge of Peter Drucker's work, will be invaluable as we look to reach more and more people with our programming and have an ever-greater impact on their organizations and their lives."
Bergstrand said he was thrilled to be joining the Drucker Institute board. "It is a great honor to work with the Drucker Institute," Bergstrand said. "There has never been a more important time to apply Peter's insights, to stimulate effective management and responsible leadership."
About the Drucker Institute
The Drucker Institute at Claremont Graduate University is a think tank and action tank whose purpose is to better society by stimulating effective management and responsible leadership. It does this, in large part, by advancing the ideas and ideals of the late Peter F. Drucker, the father of modern management.
To meet its mission, the Institute hosts collaborative forums for executives from across all sectors; works with high school and middle school students to teach them basic management principles and equip them with lifelong tools for effectiveness; produces curricular material that distills Drucker's decades of leading-edge thinking, including a management training system called the Drucker Management Path; and acts as a hub for a worldwide network of Drucker Societies: volunteer-driven organizations that are using Drucker's teachings to bring about positive change in their local communities.
In addition, the Institute maintains a digital archive of Drucker's papers and other holdings related to the fields of management and leadership; undertakes research that builds on Drucker's writings; offers an annual $100,000 prize for nonprofit innovation; applies Drucker's work to current events (through a regular online column in Forbes by Institute Executive Director Rick Wartzman; a daily blog called the Drucker Exchange; and a monthly radio show called "Drucker on the Dial"); and hosts visiting fellows with Drucker-like insights and values.
The Institute is a close affiliate of the Peter F. Drucker and Masatoshi Ito Graduate School of Management, which is training the next generation of leaders and managers to do good while they do well. For more on the Drucker Institute, please visit: http://www.druckerinstitute.com.
About Claremont Graduate University
Founded in 1925, Claremont Graduate University is one of the top graduate schools in the United States. Our nine academic schools conduct leading-edge research and award masters and doctoral degrees in 22 disciplines. Because the world's problems are not simple or easily defined, diverse faculty and students research and study across the traditional discipline boundaries to create new and practical solutions for the major problems plaguing our world. A Southern California-based graduate school devoted entirely to graduate research and study, CGU boasts a low student-to-faculty ratio.