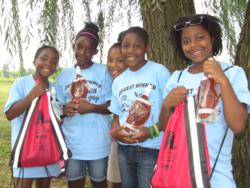 We couldn't be more proud of these young people. It is our great pleasure to serve our community and give back. What a fun day we all had. -Tim Smith, CEO, Ohio Orthopedic Center of Excellence
(PRWEB) August 14, 2012
The Central Ohio Biggest Winner Youth Challenge brought it's 8 week summer program, organized by the OOCE Foundation to a close in the form of a fun filled "Field Day" sponsored by DePuy Mitek and Safe Kids USA. This all day event featured a rock climbing wall, ropes course, zip line, inflatable obstacle courses, and TONS of prizes and give aways for the 250 youth ages 6-14 that all had participated in the Biggest Winner Youth Challenge Program. The Biggest Winner Youth Challenge is an 8 week summer program focusing on fitness, nutrition, and injury prevention. See video here.
The program participants were able to show off their knowledge gained over the previous 8 weeks of fitness training, interactive cooking demonstrations, and planting and maintaining a community garden to win fun prizes. The field day was their reward for their incredible effort during a long hot summer, most of which was spent in facilities with no air conditioning and limited amenities. DePuy Mitek and Safe Kids USA brought an army of information, games, and promotions to help highlight important injury prevention education.
Ohio State University Football and NFL alumni turned orthopedic surgeon, Greg Bellisari, MD addressed the youth on hard work and determination, the power of making positive choices, and quoted Theodore Roosevelt. Dr. Michael A McShane, world renowned orthopedic surgeon also addressed the hard working youth on establishing a dream, and engaged them on what it takes to achieve them.
A very special "Thank You" to Columbus Parks and Recreation "Schools Out" program director, Cynthia Lee, whose dedication to urban youth for over twenty years in the City of Columbus made it possible for these fantastic young people to receive this educational, interactive, results focused program. Further thank you to the City of Columbus Parks and Recreation, Ohio Orthopedic Center of Excellence Foundation, Anthem, Local Matters Inc., Growing Matters, DePuy Mitek, Safe Kids USA, and the crew of volunteers that worked the field day.
"We couldn't be more proud of these young people. It is our great pleasure to be able to serve our community and give back. What a fun day we all had." -Tim Smith, CEO, Ohio Orthopedic Center of Excellence