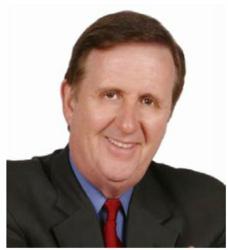 Good's coaching approach has the objective, as he puts it, "To double your income, or work half as much." He has coached many notable names to the top of the field, including David Bach, author of The Automatic Millionaire
Sandy, UT (PRWEB) October 23, 2012
Bill Good, the founder of Bill Good Marketing, Inc., has been named a "Top Coach" by Wealth Management.com, the online resource for both REP and Trust & Estates Magazines. This rating is the result of a voluntary response by more than 645 financial advisors who chose these top coaches.
Good has been coaching financial advisors since 1977. He is a frequently sought keynote speaker, and has personally delivered over 1,000 seminars, authored two popular books, Prospecting Your Way to Success, and Hot Prospects, and helped hundreds of FAs become millionaires themselves. "I am honored to be recognized as a 'Top Coach' by Wealth Management.com, especially since the rating was volunteered by financial advisors."
Good's coaching approach has the objective, as he puts it, "To double your income, or work half as much." With this philosophy, he has coached many notable names to the top of the field, including David Bach, author of The Automatic Millionaire and Chris Gardner, author of The Pursuit of Happyness. He currently coaches Research Magazine's "Number 1 Team on Wall Street", as well as many notable names on Barron's Top 1000 Financial Advisors.
As part of his coaching services, Good provides Bill Good Marketing's propriety computer-based client marketing, prospecting and office management system, The Gorilla CRM® system. This system is one of the top-selling computer-based marketing CRMs for upper-end financial services professionals. It is currently being used by more than 1,200 financial advisor teams throughout the country.
On the heels of this "top coach" award, Bill Good Marketing has released "Gorilla Anywhere®" – a cloud-based version of the program that enables clients to use the Gorilla System from a laptop, desktop, PC, Mac, and mobile devices with an internet connection.
"I am constantly looking for ways to help FAs either make more money, or work less. Work doesn't have to be the only thing we do in life. That's why we developed Gorilla Anywhere. It will help FAs do what I call 'A Double'."
Formerly a statistical analyst in New York with Alan Greenspan, the former head of the Federal Reserve, Good later worked as a news reporter and editorial researcher for the publishing firm Barron's. Today, his featured column in Research Magazine is the first one FAs read, after reading the cover article, according to the magazine's survey of their public.
For more information about The Bill Good Marketing System® for financial advisors and the new "Gorilla Anywhere®" CRM system visit http://www.billgood.com.