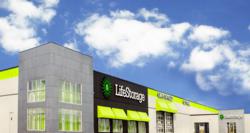 Bridgeview, IL (PRWEB) September 06, 2012
LifeStorage, Chicago self storage provider for home and business, records management and office solutions, is holding a Garage Sale Event at its Bridgeview location on Saturday, September 8th and Sunday, September 9th from 8am-4pm each day at 7700 W 79th Street in Bridgeview. LifeStorage Bridgeview was inspired not only by its sister stores holding garage sales, but also by the Village of Bridgeview's own Treasure Days event, which is a community garage sale held on back-to-back weekends. Since LifeStorage-Bridgeview is only able to participate in one of those weekends, Store Managers Nancy Warrer and David Moy thought this would be the perfect way to offer LifeStorage customers and interested parties an extra couple days to set up shop and sell their stuff.
Thus far, LifeStorage Bridgeview has been promoting the event by sending out fliers, utilizing emails and blogs, and reaching out to the business chambers it belongs to. Warrer and company will also be posting it in their blogs and email blasts, and the village of Bridgeview has already started posting signs at the major intersections. It's a collaborative effort that aims to garner as much foot traffic as possible.
"The turnout for Treasure Days is amazing. Based on that and what we've heard from our colleagues about their own events, hosting a garage sale was a no-brainer. We're offering free space to both LifeStorage tenants and to community members that want to participate. We're also offering free parking to the Garage Sale Event attendees," Warrer said.
"Giving back to the customers is great. It goes hand in hand with providing great customer service and tending to our customers' needs. We listen to our tenants and try to give them what they want when we are able to."
Like its sister stores, LifeStorage-Bridgeview embraces community involvement and providing more than just great self-storage. "We think giving back to the community is a great thing. It not only helps keep the business alive but it sets an example to up and coming businesses. We're hoping for a large turnout for this event. The old saying 'one man's trash is another man's treasure' tends to ring true at garage sales. We hope you come out and find some treasure of your own," Warrer said.
For more information on the Garage Sale event, please call either LifeStorage-Bridgeview at 708-546-3249.