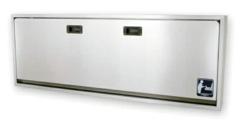 Inclusion of Foundations line of baby changing stations would allow us to offer more selection to our customers
(PRWEB) November 16, 2012
America's favorite online store for baby changing stations Babystations.com has just announced the arrival of an exquisite range of changing stations from Foundations. Baby station users throughout the country consider Foundations to be one of the most reliable manufacturers of these highly useful devices. A unique range of adult changing stations from Foundations, designed for adults with special needs, would also be available now in Babystations.com. These adult changing stations offer a convenient way to change adults with disabilities and also minimize chances of back strains for careers.
The new collection of products added to Babystations.com includes a stunning collection of stainless steel and polyethylene changing stations. Foundations offer more choice of stainless steel changing stations than any other manufacturer any other manufacturer in the country. Properly installed baby stations from Foundations are ADA and come with ANSI warning labels. Talking about the addition of these new products to the store, co founder of Babystations.com, Cameron Wilson said, "Inclusion of Foundations line of baby changing stations would allow us to offer more selection to our customers".
Babystations.com is an online store that sells baby changing stations from all reliable brands and offers shipping to all American states. Babystations.com is managed by Cameron, Matt, and Jerry, three dads that a had tough time looking for rooms equipped with changing stations. Apart from their recently added changing stations from Foundations, their store also boasts an authentic collection of products from other renowned brands like Koala, Bobrick, and Hospeco. Find out more about Babystations.com by visiting http://www.babystations.com/.