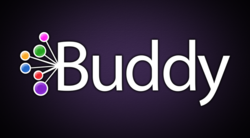 Our full public release today... brings amazing new functionality to developers of all connected platforms - mobile or device.
Seattle, WA (PRWEB) May 30, 2012
The Buddy Platform (http://buddy.com), today announced the initial closing of a $1 million seed round concurrent with the full public release of its Backend as a Service ("BaaS") platform. The investment round, led by Bay-Area seed stage venture firm Transmedia Capital and joined by micro-VC Crestlight Venture Productions, provides the company with resources to grow the footprint of the Platform and expand its' relationships with major brands and agencies that publish apps for any operating system or connected device.
Originally launched in beta last September, with over 6,000 developers signed up and building more than 5,000 apps, Buddy has rapidly gained support from the developer community. In a nod to the native cross-platform support that Buddy offers, those developers are building apps on platforms as varied as iOS, Windows Phone, Android, SmartTV, Facebook, web and even Windows 8. In a world first, Buddy today released a .NET SDK designed specifically for Windows 8 application developers.
"We're delighted to announce our full public release today, which brings amazing new functionality to developers of all connected platforms – mobile or device. By offering a rich, scenario-focused platform of APIs, Buddy now provides a foundation for agencies and brands to access the most high fidelity contextual analytics possible for their apps" said David McLauchlan, CEO of Buddy.
Added Jean-Christophe Cimetiere, Director of Developer & Partner Programs in Microsoft's Windows Phone Division, "Microsoft is excited to see the Buddy Platform offer Windows Phone developers exceptional support. Buddy's new offering will help developers build connected apps dramatically faster, and seamlessly share backend services across platforms, including Windows 8."
In addition to closing its seed round and full public release, Buddy is also releasing new APIs powered by partner Aviary.com, which will bring the power of Aviary's image manipulation, photo correction and special effects to developers on any platform. Buddy also provides a rich new "Developer Dashboard", presenting "at-a-glance" insight into real-time app performance along with additional documentation and support options.
"We're excited to bring the expanded toolset that Buddy is offering to developers of apps on any connected device," said Jeff MacDuff, CTO and chief architect of the Buddy Platform. "With an entirely new Developer Dashboard, rich supporting documentation, and extended API support for images, gaming, push notifications and crash reporting, Buddy is leading the way in providing a full-service BaaS for high volume, large scale professional studios and app publishers."
Developers can learn more, create an account and start developing at http://buddy.com. To celebrate the launch, Buddy is offering free access to the Platform up to 2MM API calls per month, through July 31st, 2012.
About Buddy Platform, Inc.
Buddy Platform, Inc. is a Kirkland, Wash. based company that provides developers a fully hosted and managed toolset of web services to power the cloud-connected pieces of their apps on all operating systems including iOS, Windows Phone, Android, SmartTV, Facebook, HTML5 and even Windows 8. Developers build their apps using Buddy's APIs that support such scenarios as user accounts, friends & group lists, messaging & chat, geo-location services, photo albums, metadata, gaming, push notifications and crash reporting.
Buddy's high fidelity analytics for publishers of mobile apps are powered by the "Buddy Platform". When publishers have their apps built on the Buddy Platform, they can access high fidelity, contextual analytics providing unprecedented data on the performance, usage and ROI of their applications. More information is available at http://buddy.com and follow Buddy on Twitter @BuddyPlatform.