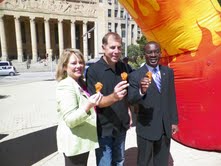 Buffalo, NY (PRWEB) August 22, 2012
As one of America's favorite food festivals, The National Buffalo Wing Festival has a tradition of getting bigger every year. But, for 2012, it's not just the crowds that will "swell" in size…it's also the Chicken Wings. The festival has secured 80,000 pounds of jumbo size wings from Wayne Farms. This will almost double the size of the wings used over the past few years.
Founder Drew Cerza, better known as the "Wing King", is promising to serve "jumbo", roaster-sized chicken wings at this years festival…scheduled for Labor Day weekend, September 1st and 2nd at Buffalo, NY's Coca-Cola Field. They will be prepared by more than 30 local and national restaurants and food vendors…all there to provide festival-goers with what has become America's number one "finger food", along with other "Buffalo Style" foods.
As always, the United States Chicken Wing Eating Championship will be a highlight of the 2012 "Wing Fest" as World Champion Sonya Thomas attempts to defend her title and extend her consecutive win streak to five.
Contests have always been part of the festival fun, and your other favorites will also be back this year, including the "Sauce-off" competitions, amateur Chicken Wing Eating challenge, the famous "Bobbing for Wings", also known as the "Blue Cheese Bowl", the Miss Buffalo Wing Pageant, the Baby Wing contest. Yancey's Fancy will host two contests including the Cheesiest Couple event .
New for 2012, however, are three very special events that are sure to thrill the tens of thousands of spectators in attendance. They include a pro football eating challenge, featuring Buffalo Bill players Eric Wood and Andy Levitre to raise money for the Food bank of WNY, a "Battle of the Border" competition with teams from the U.S. and Canada, and a "College Cup" wing-eating competition of teams from UB, Buffalo State and Canisius College.
This year's entertainment lineup includes Terry Buckwald, Pirate Dreams, Lee Ron Zydeco, the Eric Van Houten Band, S.B. Reeves Outfit and 90 West. This will also be the first year that the festival has its own house band, The Heavenly Chillbilles, on the main contest stage. They will also perform a blues concert at the end of each day of the festival. Introducing all of the contests and attractions and performing his own amazing quiz show will be Master of Ceremonies Dennis George, the "Quiz Master". For children, the always-popular "Kid Zone" will be "up and running" throughout the festival.
Having raised more than a quarter of a million dollars for local charities over the past decade, the 2012 National Buffalo Wing Festival will again give back to the community. This year's beneficiaries include the Alzheimers Association, Cystic Fibrosis Foundation, Food Bank of WNY, and Meals on Wheels.
It also takes many sponsors to make this great event possible, and this year's are Yancey's Fancy, Snyder's Pretzels, Wayne Farms, RuChDa Wings, Buffalo Bisons, Barber Foods, Hart Hotels, Frank's RedHot, Marie's Blue Cheese, Sailor Jerry Spiced Rum, and Wing Dings.
Festival hours are 12:00 to 9pm on Saturday and 12:00 to 7pm on Sunday. Admission tickets are just $5.00 per day, and children 8 and under are admitted for free.
For more information, go to http://www.BuffaloWing.com.