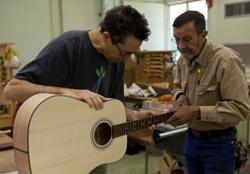 I wouldn't change a thing about the whole experience. I'd recommend an acoustic guitar building workshop with Jay to anyone who really wants to do this right." – David Lanik, workshop student
Tryon, North Carolina (PRWEB) July 24, 2012
Custom guitar builder Jay Lichty will be teaching three more acoustic guitar building workshops in 2012 at Lichty Guitars' shop in Tryon, NC. Participants build a guitar from start to finish during the twelve day workshop.
Students begin with boards of mahogany and spruce and end with strings on and tunes being played on their own traditional-style dreadnought guitar.
Workshop Details:
▪ Participation for each small group workshop is limited to four students
▪ The cost, including materials, is $2,000
▪ Workshop dates for 2012: Aug 18th – Aug 29th, Oct 5th – Oct 16th, and December 2012 (dates are currently being finalized)
▪ Inquiries and registration may be made by contacting Jay Lichty at 828-817-1460 or via email
Learn more about upcoming small group workshops and about one-on-one guitar building workshops at Guitar Building Workshops
In addition to teaching guitar building, North Carolina luthier Jay Lichty specializes in building custom handmade acoustic guitars and custom ukuleles for a discerning clientele. Lichty Guitar owners and players include world-touring professionals and casual musicians who simply want to be inspired by playing the very best. Lichty built his first guitar under the guidance of renowned Virginia luthier Wayne Henderson and he has been a full-time luthier ever since. He brings the experiences and insights he has gained from building over ninety instruments to his love of teaching others the skills of acoustic guitar building.
About Lichty Guitars
Luthier Jay Lichty builds custom handmade acoustic guitars and custom ukuleles in Tryon, NC. He was the winner of the 2010 Made in the South Awards and has top performing artists playing his guitars from Australia to Japan to Nashville. Learn more at http://www.lichtyguitars.com