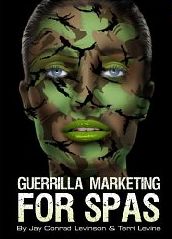 With Guerrilla Marketing for Spas, you will be able to dissect how to implement cost-effective marketing strategies, and learn about why they are effective and how to immediately improve your revenue, customer service and online reach
PHILADELPHIA, PA. (PRWEB) August 28, 2012
Terri Levine, owner of The Business Growth System and business mentoring expert with over 30 years of experience, has recently reached the No. 1 ranking on Amazon Best Sellers List for her book, Guerrilla Marketing for Spas, co-authored with the founder of Guerrilla Marketing, Jay Conrad Levinson.
"I'm very excited to be recognized as a best-selling author. It's great to know that so many people, more importantly, entrepreneurs, found these tips to be helpful," said Levine. "As a business mentoring expert, I take pride in mentoring small businesses, and in this case, health spas, to realize their potential through proven business growth strategies."
Guerilla Marketing for Spas is Terri's fourth bestselling book and is available in paperback and on the Kindle for less than $10.00. At 170 pages in length, Levine's and Conrad's concepts are laid out in an easy-to-learn manor, and the marketing methods to grow your spa's profit and success can be grasped with little-to-no marketing knowledge or background.
"Jay and I wrote this book for any spa manager or owner to pick up, read through, and implement the tactics immediately," Levine said. "We both believe that the key to Guerrilla marketing is time, imagination and energy, as opposed to an inflated marketing budget, and with these proven business growth strategies, you can grow your spa's bottom line with ease."
Within Guerrilla Marketing for Spas, there are a range of business growth plans that include no-cost and low-cost marketing methods to immediately increase your spa's target market, online visibility, customer service, and the number of leads and conversions.
"In a tough economy, the spotlight has been put on Guerrilla marketing as many small business owners don't have the budget necessary to hire a marketing agency, or dedicate the resources to develop and execute a marketing strategy, in-house," said Levine. "With Guerrilla Marketing for Spas, you will be able to dissect how to implement cost-effective marketing strategies, and learn about why they are effective and how to immediately improve your revenue, customer service and online reach."
To purchase Guerrilla Marketing for Spas visit, http://amzn.to/Nj5z9V, or to learn more about Terri Levine, business mentoring expert, visit Terrilevine.com, which is filled with resources that can help any small business owner be more successful and get the highest ROI out of any guerrilla marketing strategy.
"I've spent 30 years studying and growing businesses of all sizes and industries," said Levine. "My focus with this book was to help owners of salons or spas overcome their business challenges and secure an increase in profits quarter-after-quarter and year-after-year."