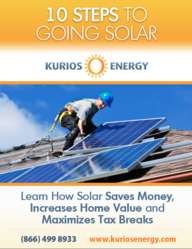 This book is designed to inform home owners about the potential savings they can achieve from harnessing the power of the sun
Central Valley, CA (PRWEB) September 19, 2012
Kurios Energy, a California solar power solutions provider for the Central Valley and Bay Area in California, announced today it is releasing a new guide to help consumers easily make the transition to solar power. The book, 10 Steps to Going Solar: Learn How Solar Saves Money, Increases Home Value and Maximizes Tax Benefits, is available for free download on the company's website at http://www.kuriosenergy.com/10-steps-to-solar.
There are numerous benefits to installing solar power systems in the home or business, but many people aren't sure what those benefits are and where to begin with the process. With this new resource, Kurios Energy explains how to start the transition, dispel myths and outlines simple steps that people can take to save money with solar energy adapt their home to solar power. The goal of the guide is not only to increase the use of solar power systems, but also to educate consumers about how taking advantage of this technology can yield significant tax breaks and increase the value of their homes.
"This book is designed to inform home owners about the potential savings they can achieve from harnessing the power of the sun," said Todd Filbrun, president of Kurios Energy. "Many homeowners are aware of the environmental advantages of going solar, but are stunned to learn they can own a solar system that produces immediate financial benefits with no money out of their pocket. Our goal is to make sure that people are armed with this knowledge and understand how to take advantage of this amazing opportunity."
To download the guide, users simply need to enter their name, email, and phone number, and the eBook will be emailed to the user free of charge. For those with questions regarding solar power energy, there is a comments field in the form, which Kurios will respond to shortly after the inquiry is received.
###
About Kurios Energy
Kurios Energy is a Central Valley and Bay Area CA focused company that helps California homeowners convert to solar energy power. The company offers a free solar evaluation and 100% financing to ensure a seamless transition to solar power. Kurios specializes in helping residential commercial, and agricultural customers make smarter, more efficient alternative energy choices, and achieve energy independence. We currently provide solar energy services via solar cells, sun power collectors and solar panels in the Central Valley including Sacramento, Stockton, Tracy, Manteca, Modesto and Turlock as well as the greater bay area. For additional information about Kurios Energy or the benefits of using solar power energy, please call 866-499-8933 or visit http://www.kuriosenergy.com.