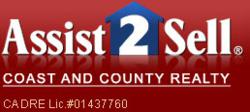 Thank you from the bottom of our hearts" for helping us sell our home in Oceanside despite all the negative news about selling a home in a down market. I believe we did well! and it's all thanks to you.
Carlsbad, CA (PRWEB) September 13, 2012
Coast and County Homes, a full-service real estate company, is deeply discounting fees for sellers and getting homes sold rapidly, despite the on-going reports about how difficult it is to sell a home in this economy.
Coast and County is part of Assist-2-Sell North America's largest full-service Carlsbad real estate company. In the last twenty years Assist-2-Sell has saved clients over $1 billion in fees. Selling fees are much less compared to the standard 6% most agents charge.
Coast and County Homes provides discounted fees resulting in savings from $9,000 to $34,000, depending on the sale price of the home and other factors. For selling a home in Vista, Encinitas, Oceanside, San Marcos or Carlsbad, Coast and County goes the extra mile with these low fees and discounts so their clients return again and again, anytime they want to sell a home.
Joanne Leigh, brokerage owner and realtor of Coast and County Realty, enjoys providing an exemplary real estate experience to her clients who are selling a home. She says, "We don't like sellers to have to face paying sky-high fees and to top it off, not get the service they deserve." She makes it a point to not only discount fees much lower than other realtors, but also is right there, returning calls, answering questions and keeping clients completely up to date.
Currently, there is a lack of home inventory in San Diego's North County, and with this shortage of homes for sale, it greatly speeds up the selling of a home in the area. Some of Coast and County listings end up with multiple bids near the asking price. High demand means faster sales.
Virtually every client testimonial states how Coast and County Assist-to-Sell went above and beyond in service, as well as how many thousands of dollars they saved in fees. For example, one lady comments, "Joanne not only saved me over $12,000 in commission fees, she went beyond the call of duty many times."
Coast and County Homes urges home sellers to take action now and to also take advantage of their deep discounts to sell a home and save thousands.
About Coast and County Homes: Coast and County Homes services Southern Californian and specializes in real estate in Carlsbad, Encinitas, Oceanside, Vista and San Marcos, with their headquarters office located in Carlsbad.