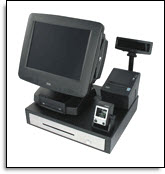 ... renowned support is available 24/7...
Sarasota, FL (PRWEB) May 15, 2012
The system has been built to meet the restaurant world's needs of high speed in a compact and space saving design. This PC based POS system has been renowned for having twice the speed of other systems that are sold today and the storage of a dual core processor.
Business owners that already have a current POS system are capable of receiving this new system as well as new small business that have not yet been able to afford a complete hardware and software upgrade from their regular cash registers. New clients will be relived at how simple the process is and very few stipulations are required for the new program.
Features of the state of the art cash register software includes the following and more; inventory tracking, easy menu editing, ability to split checks and time clock monitoring. These features have been some of the largest money and time saving options that have saved current customers. Small boutique retail shops have been delighted with the bar scanning or UPC code scanning that is able to take their shop to the next level of professionalism. The ability to run over 80 or more advanced reports that cover insights such as: employee productivity, labor reports, discount tracking along with refunds. These features can be accessed by owners and management from any computer via the internet.
System support is included as well as onsite installation and training. The renowned support is available 24/7 which will cover customer service and technical support with onsite maintenance and remote daily backup. The intuitive interface along with an educated technicians allow for easy setup and menu changing.
For more information on support and features of this software check out: http://www.cashregistersoftware1.com