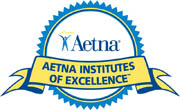 "It is gratifying to be recognized for accomplishing our ongoing mission to provide the most advanced assisted reproductive medicine technologies in addition to safe and superior patient care."
Samuel Pang, MD
Boston, MA (PRWEB) June 24, 2012
Aetna Institutes makes information about the quality and cost of health care services available to its members to help them make informed decisions about their health care needs. In line with this goal, Aetna recognizes hospitals and other health care facilities in its network that offer specialized clinical services for certain health conditions. Facilities are selected for their unique expertise in consistently delivering evidence-based, safe care.
"We are pleased to be recognized by Aetna as a Center of Excellence in in vitro fertilization and other assisted reproductive medical services," states Dr Samuel Pang, Medical Director at the Reproductive Science Center of New England. "Our mission is to help create healthy families by providing the most current assisted reproductive technologies in addition to safe and superior patient care, and it is gratifying to have our success in meeting these goals acknowledged."
Founded in 1988, the Reproductive Science Center of New England (RSC) provides comprehensive diagnosis, evaluation, consultation, and treatment for infertility. RSC New England is among the oldest and largest fertility treatment centers in New England and one of the tenth largest reproductive medicine centers in the United States.
RSC New England has 12 offices in Massachusetts, New Hampshire and Rhode Island. Its IVF Center and embryology laboratory are based at One Forbes Road. Lexington, Massachusetts 02421. 800.858.4832