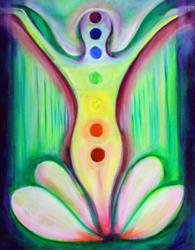 "I wanted to give yoga practitioners a chance to go into the energetics deeper," said Nicole Nardone, YogaSoul instructor and healer.
Eagan, MN (PRWEB) March 14, 2012
A new monthly workshop series at YogaSoul Center will allow students to explore their body's ancient life-force energy centers through meaningful experiences and deep information.
Beginning March 18, YogaSoul instructor and healer Nicole Nardone will take people on a monthly journey of the seven chakras, exploring one energy center per month. Each workshop can be taken as a stand-alone, or all can be taken together as a series for in-depth study. Participants will learn about, explore and balance each energy center through yoga postures, breath and other techniques.
The chakras, which are spinning vortexes of energy that reside in different areas of the body, are keys to unlocking mental, physical, emotional and spiritual health. The wisdom of chakras has traveled the east and the west for centuries, and Nardone will explore the cross-cultural links in her workshops, as well.
"I wanted to give yoga practitioners a chance to go into the energetics deeper," she said. "It's an opportunity to delve further into their practice."
The March 18 class, held from 1 p.m. to 3 p.m., will explore the first chakra, or the root chakra. The earth element is associated with this energy center. Students will learn how to clear blocks and build a solid foundation for their entire well-being.
The cost is $35 for one workshop, $90 for three, or $200 for all seven in the series. The second chakra will be covered April 15; the third chakra, May 6; and the fourth chakra, June 3. Other workshops dates are to be determined. Pre-registration is required 24 hours before the class begins.
Participants are encouraged to e-mail Nardone if they have questions. She is at nicole@yogasoul-center.com.
YogaSoul's mission is to help clients win the battle against stress. It has an extensive class offering in several styles of yoga, including Kundalini, Hatha, Yin, and Vinyasa. It boasts a fully equipped Pilates studio and offers many kinds of classes, including Zumba, Tai Chi and belly dancing. Its full roster of teachers and healers provide clients with a variety of healing services, including intuitive readings, Reiki, Thai yoga bodywork, Ayurveda, energy work and several others. YogaSoul also hosts special workshops and Kundalini yoga teacher trainings.
To see a full schedule, make an appointment with a healer or sign up for a class, visit YogaSoul's
website, http://yogasoul-center.com/. New students get their first week of classes free.
###